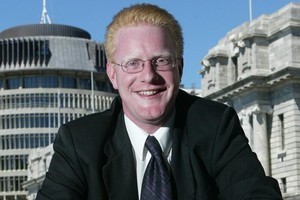 Friends and former colleagues of Darren Hughes have put pressure on police to decide whether to charge him over sex allegations.
Labour Party figures risked accusations of political interference by calling on police to "give the guy a break".
And close friend Paul Henry said it was "extraordinary" the case was dragging on, more than three months after an 18-year-old student alleged Hughes sexually assaulted him.
Wellington police defended the length of the investigation, saying it had to be "thorough".
Labour figures expressed support for Hughes as pictures emerged of the 33-year-old former Otaki representative on a Hawke's Bay beach at Easter. He was pictured with Henry, his girlfriend Linzi Dryburgh and Auckland list MP Jacinda Ardern.
In his new memoir, Henry described Hughes as his second closest friend.
Speaking at the book launch on Thursday, Henry said: "It's extraordinary how long this has taken.
I think it's unprecedented. He knows better than anyone what has gone on. I haven't offered him advice, I just offered my support."
Ardern - one of Hughes' oldest friends - refused to comment on the pictures.
"I don't intend to give you any explanation. Darren has always been a friend of mine - that's it."
Labour list MP Stuart Nash said the lengthy investigation was unfair on Hughes and the 18-year-old complainant. He called on police to "give the guy a break".
"If there is something there then charge him, but if there's not then let him get on with his life. You can't leave him hanging."
And he said Labour MPs had agreed to stand by Hughes whatever happened. "We all agreed this is what we would do for any friend, give him a bell, make sure he is okay.
"He is still a mate. You don't cast aside your mates."
The assault allegedly took place at Labour deputy leader Annette King's home in the Wellington suburb of Hataitai, where Hughes was living as a boarder.
Former Labour Party president Andrew Little joined calls for a swift resolution.
"It wasn't as if there were people to hunt down, anyone who had anything to say about it would have been interviewed."
Party officials said this week that Labour leader Phil Goff had not given MPs direction on whether they should be in touch with Hughes.
Goff and King are overseas and were unavailable for comment yesterday.
Senior Labour MP Trevor Mallard said he and other members of the caucus had spent time with Hughes since he resigned in March.
"I'm not aware of Phil giving anyone any direction. I see no need. There is always an assumption that when you have a friend or a colleague and they're running into some sort of trouble, you're supportive of them."
Wellington police communications manager Victoria Davis said officers were conducting a "thorough" investigation and there was nothing to report.
Otago University political studies lecturer Bryce Edwards said there was nothing legally wrong with politicians criticising police. "In this case what makes it a bit more dodgy is that they are talking about one of their own."
Police Minister Judith Collins said she was unable to comment on any active police investigation. "It's completely up to the police."
TVNZ BLACKLISTS HENRY
Paul Henry has been blacklisted from promoting his book on TVNZ.
And confusion between network executives and the producers of lifestyle show Good Morning almost meant Henry's memoir, What Was I Thinking, was barred too.
Regular Good Morning book reviewer Kerre Woodham received an email from producers on Friday forbidding her from talking about the book during her monthly slot.
But TVNZ spokeswoman Megan Richards said last night there was never a ban on the book, just Henry.
"Random House offered Paul as an interviewee on the show as part of his standard publicity tour for his new book.
"That was declined, which is fair enough because Paul is now an employee of our competitors."
Henry is returning to the airwaves in July, as drivetime host on Radio Live and will also appear on high-profile projects for TV3.
He is also in talks with global news network CNN in a bid to break into the United States.
Henry met CNN representatives at their headquarters in Atlanta last week before jetting back to Auckland for the launch of his memoir.
"We had a really productive chat. I should hear something in a week or so."
- additional reporting Frances Morton