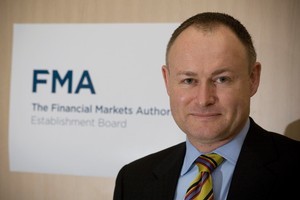 An unregistered KiwiSaver salesman was parking outside Work and Income New Zealand offices and offering people $10 in return for signing up to the savings scheme, says the boss of the new Financial Markets Authority.
Sean Hughes says that after receiving a tip from a KiwiSaver provider, the FMA wrote to Patrick Diack ordering him to refrain from his illegal activity, which had mostly taken place in the lower North Island.
Diack indicated he did not agree with the FMA's view, said Hughes, who would not rule out legal proceedings against the unregistered salesman.
"Anybody that flouts the law, particularly after we've given them a warning, shouldn't expect us to sit back."
Diack was unavailable for comment.
The FMA said Diack had also been signing people up to the scheme without providing an investment statement - the document that provides investors with the information they require to make decisions on whether to join KiwiSaver.
His actions were in breach of the Securities Act, the authority said.
Hughes said "pressure selling" was totally inappropriate - no matter what product was on offer. "Consumers should be given a reasonable opportunity to consider whether they want to go ahead with the transaction or not."
Hughes said Diack appeared to be an isolated example of illegal sales techniques.
"But calling on my Australian experience - when we were going through a similar regulatory reform about 10 years ago - there will undoubtedly be some people that try to take advantage of consumer confusion [about] what level of regulation there is."
Hughes said the action the FMA had taken against Diack should warn KiwiSaver and financial product providers about their legal responsibilities for people acting on their behalf, as well as their moral obligation to protect customers.
"The integrity of KiwiSaver as a financial product is crucial to New Zealanders having confidence to invest," he said.
"FMA is very focused on ensuring financial advisers engage appropriately with investors and comply with the law. We will act decisively to curtail unacceptable practices by individuals and firms."
Workplace Savings NZ chief executive David Ireland said that it was gratifying to see the regulatory regime swinging into action.
The authority, which came into being on May 1, is a single regulator for New Zealand's financial markets, taking on the regulatory functions of the Securities Commission, the Ministry of Economic Development and NZX.
NEW REGULATION
* The FMA says Patrick Diack failed to comply with the requirement to be registered as a financial services provider under the Financial Service Providers (Registration and Dispute Resolution) Act, which came into force on March 31 this year.
* Under the new financial adviser regulation which comes fully into force on July 1, anyone offering personalised financial advice on KiwiSaver must also be licensed by the FMA as an Authorised Financial Adviser.