Commissioner applied to restrain properties allegedly linked to former C+M directors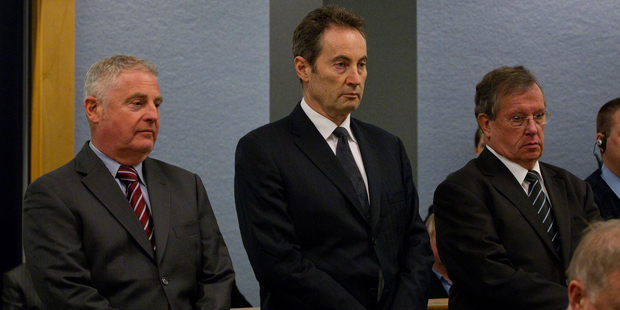 Police have taken unprecedented action to restrain assets associated with two jailed Capital + Merchant Finance directors but say it is too early to know whether the move will lead to compensation for the failed firm's 7500 out-of-pocket investors.
The Commissioner of Police has applied to the High Court to restrain properties allegedly linked to former C+M directors Neal Nicholls and Wayne Douglas, who are in jail for fraud and misleading investors.
C+M collapsed in 2007 owing $167 million to investors, who had then expected to get none of this back.
Authorities are now targeting property Nicholls and Douglas are believed to have an interest in and Detective Superintendent Peter Devoy said it was the first time police had sought to restrain assets of a convicted finance company director.
Following an application by Crown lawyer David Johnstone in the High Court at Auckland, Justice Graham Pankhurst yesterday made restraining orders over the directors' alleged leasehold interest in a commercial property in the Auckland suburb of Parnell, as well as a term deposit associated with Paua Capital Ltd - which the Companies Office says Nicholls is the sole shareholder of.
It was revealed yesterday that police are also seeking restraining orders over a property in Rodney and another in Gulf Harbour said to be associated with Douglas.
A lawyer acting for trustees linked to the Rodney and Gulf Harbour properties indicated yesterday she would file opposition to this attempt.
Unless the parties come to an agreement over these two properties, a court hearing will be needed to determine if they are also to be subject to restraining orders.
Property records show one, a lifestyle block near Warkworth, has a capital value of $1.5 million.
Valuation website QV lists Tara Management Services, which the Companies Office says Douglas used to direct, as the property's owner.
Johnstone said outside court that police would look to seize restrained property if it was found to be under the directors' effective control.
However, Devoy said yesterday it was too early in the process to determine whether the police action would lead to any financial compensation for investors.
While the police had originally applied to restrain two Wellington properties believed to be controlled by jailed former C+M chief executive Owen Tallentire, Johnstone said yesterday this bid was being withdrawn.
Nicholls is serving a sentence of eight years six months in jail and Douglas eight years two months.
This followed a Serious Fraud Office trial where both men were found guilty of theft by a person in a special relationship for a series of loans totalling almost $20 million. They loaned money for their own benefit in breach of Capital + Merchant's trust deed. Tallentire, also convicted in both SFO and Financial Markets Authority cases, was sentenced to six years' jail.