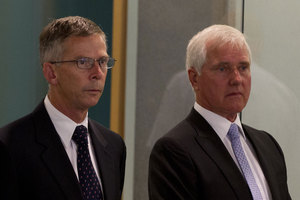 The Crown's claim that a director of a failed finance company took part in a cash grab is a "nonsense'', says his lawyer.
Paul Davison QC told the High Court at Auckland today that his client, former Dominion Finance Group director Robert Whale, never set out to conceal any of his dealings and did not knowingly breach the Dominion Finance trust deed.
Whale, together with former chief executive Paul Cropp and an accused with name suppression have pleaded not guilty to theft by a person in a special relationship in charges brought by the Serious Fraud Office (SFO).
The five-week trial of the men in the High Court at Auckland is winding up, with the defence making its closing arguments following Crown submissions last week.
Mr Davison said his client had dismissed some of the SFO's allegations as "crap''.
Crown lawyer Brian Dickey told the court last week a number of "grossly imprudent'' transactions between Dominion Finance and its sister firm were "a cash grab'' so the now-failed company could meet its obligations to investors.
The SFO alleges the trio knowingly and deliberately breached the requirements of Dominion's debenture trust deed or that of its sister company, North South Finance.
A debenture trust deed dictates the terms and conditions between debenture holders (investors) and the company accepting the funds.
Some of these breaches allegedly occurred through a series of related-party transactions where $11.9 million went from North South to Dominion.
The trial before Justice Graham Lang continues.