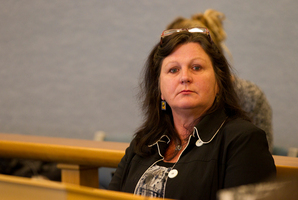 Untrue statements in National Finance's offer documents should have set off alarm bells for director Carol Braithwaite, but she wasn't taking an interest in the company despite receiving fees of almost $80,000 a year, prosecutors argue.
Braithwaite - the former partner of jailed National Finance boss Trevor Ludlow - is the first director from a failed New Zealand finance company to have a case heard before a jury.
She faces one charge of making untrue statements in a company prospectus and has pleaded not guilty.
According to the Crown, there are 10 material untruths in the document, an allegation Braithwaite now accepts.
However, she will defend the charge on the basis that she believed at the time the prospectus was correct.
The charge, laid by the Financial Markets Authority, carries a maximum penalty of five years in prison or fines of up to $300,000.
In the Crown's opening address yesterday, prosecutor Steve Symon said the accused didn't take the appropriate steps to ensure the document was true.
"The Crown say Ms Braithwaite didn't delegate the decisions about things to other people. On the contrary she didn't do anything at all, she just didn't do her job as a director in terms of making sure she was sure about the information," Symon said.
"Moreover, if she had looked at the documents available to her she would have found out these statements were untrue," he said.
"The alarm bells should have been ringing very loudly for Ms Braithwaite."
But Symon said she wasn't "taking an interest" in the company.
"She chose to stay in this company, she chose to take $78,000 [a year] to be a director, investors had a right to expect her to do something," he said.
"She abdicated her responsibilities, she just didn't do her job as a director properly. If she had done it properly, if she had checked ... she would have found that these things were untrue and would have had to do something about them," he said.
But Braithwaite's lawyer Quentin Duff said yesterday the accused had the "wool pulled over her eyes" by Ludlow, former National Finance director Anthony Banbrook and company accountant John Gray.
"The thing is this, there are three characters that do loom large in this trial, a fraudster, Ludlow, a thief, Gray, and a criminal barrister, Banbrook ... Carol got it wrong, her intuition just failed her," Duff said.
Braithwaite had been due to appear in the dock with Banbrook, but the latter made an eleventh-hour guilty plea. He will be sentenced next month.
National Finance went into receivership in 2006 owing investors $21 million. Some investors have recovered 49c in the dollar.
Gray pleaded guilty to theft and false accounting charges in the Auckland District Court in 2010 and was sentenced to nine months' home detention.
Ludlow is serving a sentence of six years and four months after being convicted of charges laid by the Serious Fraud Office and the Financial Markets Authority.
He was found guilty last July of defrauding investors of an estimated $3.5 million.
He and Braithwaite once shared a $1.5 million Devonport property and in 2009 he blamed the stress of the business' failure for the pair's break-up.
The prosecution said yesterday that the prospectus did not reveal that Ludlow and Braithwaite were in a relationship.
"Wouldn't you [as an investor] want to know that these two are going home together?" Symon asked the jury.
Both are banned from being company directors until next April.
One of the untrue statements in the offer documents concerned undisclosed related-party lending.
This lending included $225,000 which Ludlow and Braithwaite had used as a deposit on four luxury Fiji apartments.
Symon suggested Braithwaite must have known about the properties because she had signed the sale and purchase agreement for them.