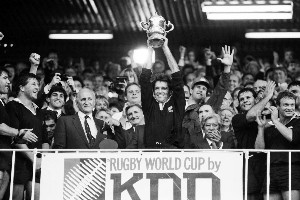 The first RWC was a muted affair - but it changed the game forever
I went to the All Blacks' first training session. There were no screens or security guards. There was no need: only a dozen or so members of the public turned up.The All Blacks were victorious in 1987 but there had been little angst over their prospects before the tournament.
Just before the first Rugby World Cup began, three of us wandered into Eden Park and bought tickets for the opening game. We didn't have to queue. From memory the cost of witnessing this piece of sporting history from the best seats in the house was $20 a head.
Eden Park was half-empty. The opening ceremony was a homespun affair bearing closer resemblance to a school gala than the high-tech, choreographed-to-within-an-inch-of-its-life extravaganza that kicks off a global sporting event these days.
The tournament continued in this vein. There was interest, but people didn't rearrange their lives around it. When all was said and done, it was just a bunch of rugby matches, some involving teams we couldn't take too seriously.
Wallaby halfback Nick Farr-Jones didn't even stop work. He was getting up at 5am and going into the office until his suspicious coach rang his direct line and got "Nick Farr-Jones speaking".
There were 4000 empty seats at the Australia-France semifinal at Sydney's Concord Oval where capacity was barely 20,000. The All Blacks-Wales semi in Brisbane drew 22,576.
And unlike the current tournament at which most games - and all the games that really count - will be played at night for the benefit of European fans still trying to work out how to operate their Sky boxes, the action took place in the afternoon and mostly in benign conditions.
The winter of 1987 had that and much more in common with another wonderful winter of rugby: 1971, when a great British Lions team changed the way New Zealanders thought about and played the game.
After that tour, the supremely talented Welsh first five-eighths Barry John acknowledged that the Lions' expansive style of play might not have worked so well if they'd struck the rain and mud which had swamped many touring teams before them.
"I often wonder how things would have gone in New Zealand if the Lions hadn't been so lucky with the weather," he said. "They had their best winter for years and years. The grounds were nearly always dry. Against Southland the sun was streaming straight between the posts, and I just couldn't sight them properly. Fancy having problems with the sun in Invercargill."
The other big difference between now and then was that there was little angst over the All Blacks' prospects. There were a few reasons for this, the most obvious being that back then we were zero from zero at World Cups, like everyone else, as opposed to one from six.
Secondly, expectations were muted. The year before the All Blacks (with two honourable exceptions) had toured South Africa under the alias of the Cavaliers, reopening some of the wounds the rugby community (with many honourable exceptions) had inflicted on the country five years earlier.
Some labelled the Cavaliers mercenaries. What else would you call guns for hire in mock uniforms shoring up a beleaguered and discredited regime?
After the Baby Blacks' uplifting win over France, the Cavaliers were rushed back in time to lose a home series to the Wallabies.
This annus horribilis ended with the All Blacks being beaten - and beaten up - by a supercharged French team in Nantes.
After seven years in Europe, I came home early in 1987. In those days before the internet and pay TV, I was only vaguely aware of the revolution in provincial rugby led by Auckland's John Hart and Canterbury's Alex Wyllie, the effects of which hadn't really filtered through to the All Blacks.
I watched Auckland and saw a young loose forward with an appropriately flamboyant name - Zinzan Valentine Brooke - score four tries against Fiji. When I suggested he could be a star at the World Cup, I was told he was unlikely to make the squad. (He did, but only as a back-up.)
I saw the 104kg wing John Kirwan scoring tries from deep in his own half, beating tackler after tackler with a breathtaking combination of speed, footwork and power, and sensed that here was the prototype for a new breed of rugby player. I also wondered if the Europeans quite realised what was coming their way.
I went to the All Blacks' first training session. There were no screens or security guards. There was no need: only a dozen or so members of the public turned up.
Two things were immediately apparent: the All Blacks were superbly conditioned, with markedly different body shapes to those of the French and British players.
Secondly, the intensity was unbelievable: they hit tackle bags as if they wanted to obliterate them.
I knew we were going to win the World Cup, and was pretty sure daylight would come second. Those were the days.