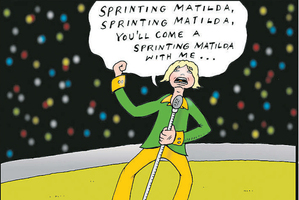 The surprise surrounding this is that there was any surprise at all.I ONCE KNEW a rugby player. Big fella. Good player, too. So big, he couldn't quite scratch his own back. You'd recognise the name. Word was, he was on the steroids. This was a long while ago but I can't tell you who he was because of the legal niceties that still protect drugs cheats.
There was Graeme May, the huge weightlifter beloved in New Zealand after the 1974 Commonwealth Games when he won a gold medal. One lift attempt went wrong and he staggered towards the front row of spectators - including the judges and Princess Anne - before falling and dropping the vast weight, scattering onlookers. May died in 2006, aged 54, but not before his Christian conscience led him to admit to steroid usage.
Then there was Robin Tait, the Olympic and Commonwealth Games discus thrower. A friend of mine, Robyn Langwell, wrote a magazine expose after Tait's premature death at 43 detailing, among other things, how Tait's party trick was to take out his penis, put it on a table or stool and, so the story goes, bash it with a beer bottle - as it had become desensitised through performance-enhancing drugs usage. Langwell was pilloried for printing that story but, in today's Lance Armstrong-riddled landscape, it seems small beer (forgive the pun ...).
Yet still there are some dear, sweet souls - in the media, as well as out there in fan-land - who ask the gloriously naive question: do you think any New Zealanders are involved in the Australian drug revelations which have captured attention on both sides of the Tasman and globally?
There are others, with oddly shaped moral compasses, who ask why we bother banning drugs - and creating the black market being exploited by crims - if they cause so many problems. Some even advocate letting the "gladiators" compete with drugs. To these dropkicks, we should patiently point out not only the health and safety dangers (witness the early deaths of May, Tait and others who have doped) but also the cheating aspect. Some people, like Armstrong, have metabolisms which embrace the drugs more than others. So, it's cheating but some people are better cheats because their body uses the chemicals better. That's what our sporting prowess should be based on?
The proceeds of professional sport now make up about 10 per cent of the world's GDP. As Tana Umaga might have said: That's not playing tiddlywinks.
While there are no specifics from Australia, it seems only a matter of time and legal circumstance. As Australian Justice Minister Jason Clare said: "The findings are shocking and will disgust Australian sports fans. Multiple athletes from a number of clubs in major Australian sporting codes are suspected of currently using or having previously used peptides, potentially constituting anti-doping rule violations. Officials from clubs have also been identified as administering, via injections and intravenous drips, a variety of substances. It's cheating but it's worse than that, it's cheating with the help of criminals."
The surprise surrounding this is that there was any surprise at all. Here's what New Zealander David Howman, the long-time head of the World Anti-Doping Agency told a seminar in London: "For $100, you might get a return of anything between $10,000 and $100,000," warning that the same criminals are working on several levels and thereby challenging the whole integrity of sport. "They are also involved in money laundering, bribery and corruption. We get it in the anti-doping world. Doping control officers are being bribed - or tempted to be bribed. There have been examples of laboratories being subject to brown envelopes, and we would be totally naive if we thought that it is not going to be bigger, of course it is."
That was almost two years ago.
Now Howman is again saying that the same dark agents involved in the trafficking of PEDs are cropping up in reports of corruption in match fixing - like those emanating from Europe and Asia and involving football recently.
Howman called for a new World Sports Integrity Agency to be set up by governments and sport in cooperation, using the WADA model. It would have global efficiency and inter-linking laws to deal with doping, illegal betting and other forms of corruption in world sport.
The biggest question to be asked from the Australian revelations is why the detectors haven't picked up more of the wrongdoers, if PEDs are so systemic?
The answer is that they can't. It's already an octopus too big to get their arms round. While the detection agencies have had some successes - recent Olympics have appeared cleaner than preceding events - the cheats are becoming ever more sophisticated, the products better and less able to be detected. Drugs testing is not the answer; it's only a part of the answer.
Their best results have come through inter-agency cooperation - like Balco, Marion Jones and now Armstrong. It needs international war to be declared on the traffickers and the bookmakers; Howman's Integrity Agency must be set up or maybe an interwoven sports-police-government body, like Interpol. Sportspol?
This column has several times called for mandatory jail sentences for PED users. New Zealand could apply that. We are all at fault here. I never blew the whistle on the rugby player mentioned earlier. Like others in those days, it was easier to look the other way.
If you fill them up with beer or maybe threaten to shoot their dog, some officials connected with New Zealand sports teams will admit they knew of drugs usage but did nothing.
Those days have passed. The Aussie revelations are a clear call to action.
After all, what happened two years ago to Howman's impassioned bid to get a global Integrity Agency set up? Well, the International Olympic Committee decided to establish a working committee.
Wa-hoo.