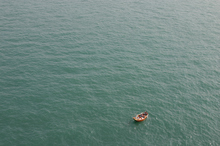 The Rescue Coordination Centre New Zealand is coordinating the search for two sailors, missing in Tongan waters.
The men, both aged in their 60s, are from Australia and England.
Their 50ft yacht Navillus was wrecked off the island of Late, west of the island of Vava'u, Tonga, on Thursday night.
They reported via a satellite phone call to a relative in Victoria, Australia, that they had run aground and their Bavaria yacht was breaking up.
An emergency locator beacon was activated at the same time, around 10.30pm.
Rescue Coordination Centre (RCCNZ) mission coordinator Geoff Lunt said an RNZAF Orion was sent to the area this morning and had searched the drift area identified by RCCNZ, so far without success. Two fishing boats from Vava'u were also involved in the search.
"They have located the hull of the vessel, and seen a lot of debris,'' Mr Lunt said.
"The yacht's dinghy has been found, and an undeployed liferaft, as well as a number of lifejackets.
"There are a number of potential landing points on the island near to where the hull was found, and crew from one of the search vessels has gone ashore to inspect these.''
The fishing boats have now left the search area in order to reach port before nightfall, with the Orion also due to land in Tonga.
The search will resume tomorrow.
"Survival time in the water is estimated at 36 hours and this would be extended if lifejackets were worn,'' Mr Lunt said.
The yacht is understood to have been en route from the Caribbean to Bundaberg.
Police in Victoria are coordinating contact with the next of kin.

- APNZ