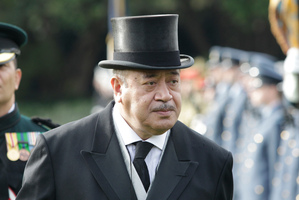 A state funeral for Tonga's late King George Tupou V has been moved forward a day to Tuesday, March 27, at the request of his successor King Tupou VI, officials have said.
The king's body will arrive in Tonga on Monday on a Chinese charter aircraft from Hong Kong, where he died in hospital on Sunday aged 63, then lie in state in the royal palace for a day before his burial, a government spokesman said.
The original plan was to bury the king on Wednesday, March 28, after two days lying in state. The spokesman did not specify why the date had been changed, other than to say arrangements had been made by King Tupou VI.
The South Pacific nation has declared an official period of mourning until June 19 for the dead monarch, remembered as an eccentric who brought democracy to his impoverished nation.
Many buildings in the capital Nuku'alofa have been swathed in mourning colours of black and purple ahead of the funeral.
The funeral is expected to be a lavish affair, with the late king's body carried by 150 people from the palace to the royal tombs on an ornate platform.
While details of the new king's coronation are yet to be finalised, the government issued an official proclamation this week confirming him as the country's latest monarch.
- AFP