Smiles, spinnakers and hangovers prevail in the world's friendliest yacht race, writes Ian Lloyd Neubauer.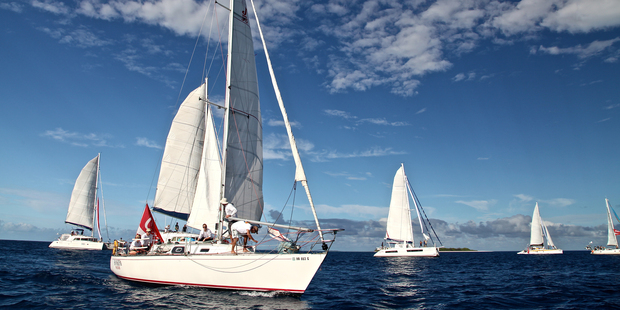 Kill two birds with one stone: that's what the Cercle Nautique Caledonien cruising yacht club figured when it launched the Great Lagoon Regatta in 2009.
First, it would give members who didn't have fast, expensive sailboats - and all the time in the world to train on them - the chance to participate in a genuine yacht race.
And second, it'd provide a conduit to promote their nation's greatest natural treasure - the New Caledonian Barrier Reef - a 1600km-long coral formation that encases the largest marine lagoon in the world.
Yet the first year's race hit a bit of a hitch.
"We introduced a rule where competitors received extra points for every fish they caught," says co-ordinator Herve Moal, a salty haired super-yacht agent based in the capital, Noumea.
"But the crew of one boat came with 20 rods, caught a tonne of fish and won the race even though their boat was one of the last to finish!"
Held the first weekend in June, the now fish-free three-day race is open to monohulls and catamarans, and boats from New Zealand and Australia are especially welcome.
Invitations are also extended to tourists with no sailing experience to speak of, who can hire yachts and two skippers to do the sailing on their behalf.
It goes a long way to explain how, in four short years, the Great Lagoon Regatta has made a name as the friendliest yacht race in the South Pacific.
Here's what happened at this year's race ...
DAY 1: NOUMEA-OUEN ISLAND
The starter's horn blares through the sultry sea air. Without wasting a moment, a Sydney 38 monohull completes a sharp tack around the starting line and powers ahead, followed by an Archambault 35, a G35, three other monohulls and seven gleaming white catamarans.
The boats are not fairly matched and thus will be penalised according to their handicap. But strategy is important, too, and gives these amateur skippers a chance to prove their mettle on the sea.
Most opt to sail about a mile off the coast, while two boats go much further out. This turns out to be a mistake because the sea becomes choppy in the afternoon and those closer to land enjoy not only smoother sailing but also a stronger downwind.
The finish line lies some 30 nautical miles away at the mouth of a small bay on the west coast of Ouen Island - a breathtaking little spot where a pristine little beach has been chosen to stage the opening night celebrations.
The party goes on well into the night and beer flows endlessly, the sounds of drunken sailors echoing over the lagoon.
A serious regatta it may not be, but a serious party it is.
DAY 2: OUEN ISLAND TO SOUTH FIVE ISLANDS
Our destination today is the South Five Island Group, a sunken atoll dotted with pristine islets ringed by coral reefs. The route heads due south through a passage riddled with coral reefs and submerged rocks, making it the most complex - and challenging - section of the regatta.
"There are many choices in terms of tactics today," Herve explains.
"You have to make a decision to go in front or behind the reef. One way is shorter, but the other way you have very little waves and the water is flatter, so you can get more speed.
"But, if the wind changes a little bit, you can get in serious trouble. See that green boat?" he asks, pointing to a monohull miles off our aft.
"The skipper decided to put his spinnaker up and found himself lost in the middle of the rocks. So he had to turn back and lost a lot of time."
DAY 3: SOUTH FIVE ISLANDS TO NOUMEA
Yesterday was overcast but today the weather shines with an ice-blue sky and a strong headwind - perfect conditions for sailing. By 9am all 13 yachts amass behind the starting line, ready to give it all they've got. The starting horn blares and the game is on.
One by one the skippers raise their spinnakers, infusing the seascape with a kaleidoscope of brilliant colours and patterns. The Sydney 38 again takes the lead and ends up winning the regatta by a healthy margin. But a serious battle takes place for the second and third spots between the Archambault 35 and the G35. When we last see them at the halfway mark they're neck-and-neck, with only a metre or two separating them at certain moments.
Who came first between them? It matters not. For this event is about friendship and seeing a beautiful part of the world, not the tiring details of sports statistics.
"This regatta started as a race," says Herve, "but it turned into a family."
CHECKLIST
Getting there: Aircalin, the international airline of New Caledonia, has four departures a week to Noumea from Auckland.
Further information: See newcaledonia.co.nz.