Paul Rush tours Efate Island and meets the smiling face of the Pacific.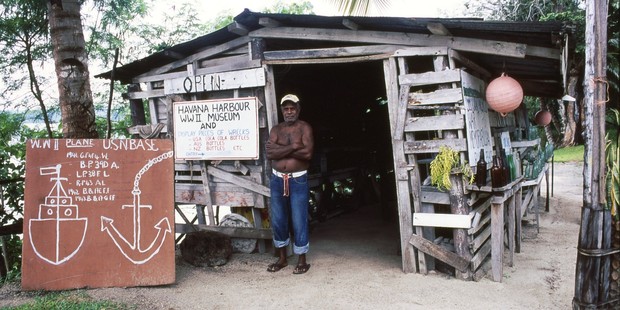 Normally, one would expect a 140km circuit around a tropical island to occupy a couple of hours on a self-drive tour. In Vanuatu, it is an adventure - an intrepid journey with some unexpected encounters.
My journey begins at Mele Cascades, a glorious series of waterfalls and plunge pools on a river that tumbles out of the jungle. I can't resist a dip in one of the many surging pools; it's like having a massage in a tub of bubbling Champagne.
Klems Hill lookout offers me a full panorama of Mele Bay. It's arrestingly beautiful and calm in a languid, balmy, tropical way. Hideaway Island, an idyllic coral atoll enticingly close to shore, appears to float on the shimmering sea.
Lush green vegetation crowds in, engulfing the narrow, winding road. Occasionally, the jungle opens to reveal rustic clusters of thatched roof huts that denote a small community living off the land in time-honoured fashion. Often, a lone grazing horse, fossicking chicken or bewildered domesticated piglet is the only sign of occupation.
The mirror-smooth water of Havannah Harbour is an unexpected delight. I meet a local who points out his village on the distant island of Lelepa. He enjoyed growing up the traditional way, hunting and fishing with absolutely no worries or cares. I note his unusually swish clothes and snazzy eyeshades in this land of ultra-casual attire.
In Havannah Harbour I meet an 80-year-old Ni-Vanuatuan who is an Americaphile and a passionate collector of WWII military artefacts. He has 346 Coca-Cola bottles exhumed from old US naval base dumps. His pride and joy is an original white bottle dated December 1915, which he assures me was designed to represent feminine curves like "the soft and wavy frame of a dame".
This amiable man in his ramshackle corrugated iron shed, with the grandiose title of WWII Museum, has a story for every one of the dinner plates, mess trays, gun sights, jerry cans, gas masks and aircraft components in his 33-year-old collection. The disinterred memorabilia is for sale under a hand-painted sign reading "Rust in Peace".
Beyond the white sand beach of Undine Bay, on the northern shores of Efate Island, I stop at an entrancing lagoon to snorkel in crystal-clear tepid water. Nemo and his clown fish friends are here along with Moorish idols and damsels, flashing and flickering in the intense sunlight.
In Eton village, I meet a family that produces bumper harvests of banana, pineapple, pawpaw, grapefruit, taro and yams.
In many villages throughout Vanuatu's 83 islands, there is no need for paid employment. Whole communities are virtually self-sufficient, fishing and farming as they have done for centuries.
The day is drawing to a close as I near Port Vila, but I'm travelling on Vanuatu time. Mere minutes don't count and even hours are flexible in these timeless islands. Ni-Vanuatuan families are walking in single file along the road verge, the men in T-shirts, shorts and thongs, the women in bright, floral, Mother Hubbard dresses.
Other families pass by on Toyota utes, seated precariously on the tailboard in uncanny ease as if gravity, velocity and other basic principles of physics have no relevance here. They all offer ready smiles and welcoming waves as I pass.
After my full day I'm replete with memories of towering tropical forests, vast coconut plantations, incredible coral reefs, crystal-clear waters and, above all, the warm smiles and genuine welcomes of the people along the way.
CHECKLIST
Getting there: Air Vanuatu has regular flights to Bauerfield, Port Vila from Auckland in a Boeing 737-800.
Getting on the road: A trip around Efate can be a self-drive tour from Port Vila in a rental car or a conducted tour with one of several local operators.
Further information: See tourismvanuatu.com.
Paul Rush travelled courtesy of Tourism Vanuatu and Air Vanuatu.