On safari in Fiji? Yep, with caves and bloodthirsty tales, says Russell Blackstock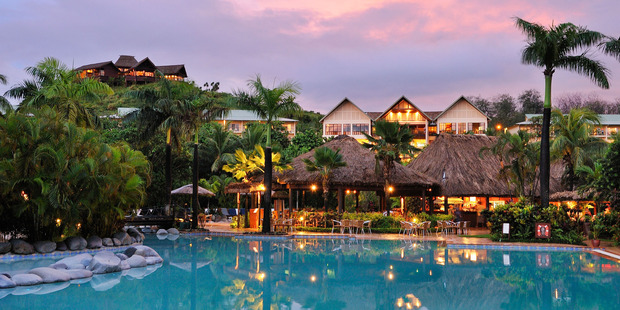 Deep in the bowels of a dank cave on a remote Fijian hillside, lights from a dozen climbing helmets rest at a spot where a cannibal tribe once killed and cooked its victims.
It's been a long time since anyone has been roasted and eaten in the eerie underground lair, but it's still an unnerving moment.
Bill, a larger-than-life guide, appears to positively revel in the shared looks of horror from his tour group while pointing out a natural stone "oven", ritual platform and a sacred chamber once used by fierce warrior priests with a taste for human flesh.
How much of this bloodthirsty tale is true is anyone's guess. But it has the desired effect of firing the imaginations of Bill's wide-eyed audience, me included, who had spent the morning getting there on makeshift roads in all-terrain vehicles.
The safari to Naihehe Cave is a fun new excursion offered at the Outrigger on the Lagoon Resort on Fiji's handsome Coral Coast, just over an hour's drive from Nadi Airport.
I travelled from Auckland for a four-day stay at the five-star complex. It has 207 rooms and suites, plus 47 thatched bures, set in 16ha of manicured garden.
The Viti Levu island getaway stands apart by embracing the design and hospitality of a traditional Fijian village. It prides itself on its signature Talai butlers and popular Meimei nannies.
The Talai service is perfect for people who like to be spoiled rotten on holiday. It includes complimentary arrival drinks, with canapes delivered to your room every afternoon. Talai butlers are available to unpack and press your clothing, recommend tours and activities, and schedule restaurant reservations.
Resort facilities include a tropical swimming lagoon, activities centre, kids' club, boutiques and gift shops. Then there is the fitness centre, floodlit tennis courts, private beach, golf training service and the Bebe Spa Sanctuary.
Quality food is also high on the list of attractions at the Outrigger. The resort's four restaurants suit most tastes and budgets. The team is headed by Fiji's most decorated executive chef, Shailesh Naidu.
This was my first trip to the Pacific paradise and, like most first-timers, I was bowled over by the friendliness of the staff and infectious exuberance of the locals. But if I thought I was in for a lazy time reading by the pool while being waited on hand and foot, I couldn't have been more wrong.
Here are the highlights of the tours and activities I enjoyed.
Fijian cooking class
As someone who struggles to operate a microwave, the thought of joining a culinary master-class was daunting. And when I heard seafood was on the menu, a cold sweat broke out - seafood is not something I would order.
However, five-star chef Shailesh Naidu soon had us eating out of his hand. In 90 minutes, he conjured a delicious lunch from scratch.
It was fascinating to watch a true master at work. First, Naidu worked his magic on a starter - Reef Lobster Ceviche, which involves marinating thinly sliced lobster in lime juice, then adding diced tomato, spring onion and chillies.
This was followed by a main course of seared fresh sea snapper served with palusami veges and tropical salsa. The dessert of Banana Vaka-Lolo, infused with freshly made coconut caramel sauce, was to die for.
Many of the ingredients, including sea grapes, fruit and spices, were bought earlier in the day on an excursion to a bustling produce market in the nearby town of Sigatoka. The vegetables came from a Chinese organic farm nearby that supplies the resort daily.
Bebe Spa Sanctuary
Perched on the resort's highest point, at the peak of Vakalomalagi Hill, Bebe Spa Sanctuary is touted as the pinnacle of luxury in Fiji.
It has eight treatment rooms with private balconies, open-air showers and sunken spa baths.
It also boasts breathtaking views over the ocean on one side, and the region's lush, rolling landscape on the other.
The short hop up there in a golf buggy is entertaining in itself.
A range of local and international face, body and massage treatments are administered by friendly, skilled female staff.
I opted for the Outrigger's signature Drua massage. Described as the epitome of indulgence, it was a real treat.
Two therapists worked on me in perfect harmony for more than an hour as I drifted off into a state of blissful serenity.
I enjoyed the experience so much, two days later I was back for more. This time I went for the Saba Stone Therapy, for which a therapist goes to work using relaxing warm stones and oil. Sublime.
Kula Eco Park
Adults and kids alike wouldn't want to miss this place.
The award-winning park is just a short journey from the resort by car. It is regarded as the environmental showpiece of the South Pacific and is Fiji's centre for the captive breeding of endangered species and the environmental education of schoolchildren.
It becomes a hands-on experience as soon as you walk through the door, with iguanas waiting to be handled and dazzling native parrots happy to pose for photographs.
Kids squealed with delight as they fed giant turtles swimming in a large tank, and there is a range of exotic birdlife, butterflies, moths and local seashells to see and explore.
A wooden walkway adds to the experience as it snakes through the forest, giving visitors an up close, personal view of rare Fijian plants, trees and shrubs.
• Russell Blackstock travelled to Fiji courtesy of Air Pacific and Outrigger on the Lagoon Resort.