Dubbed Savage Island by Captain James Cook, Niue is now a haven of bliss, writes Paul Rush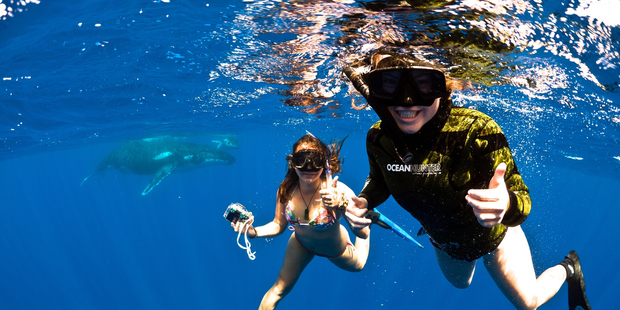 My first glimpse of Niue belies its title "The Rock of Polynesia". Forget the formidable bulwark of the Rock of Gibraltar, this is a glorious oval coral atoll rising out of the deep blue Pacific, perched on top of an undersea volcano.
Stepping off the three-hour flight from Auckland on a balmy Friday afternoon, it seems most of the population are at the airport. Vanessa Marsh, the charming meet-and-greeter is there along with Hayden Porter, the man charged with revitalising Niue's tourism industry.
Between the flurry of airport activity and animated "Fakaalofa lahi atu" welcomes, Hayden tells me the whole island scene is rapidly changing in preparation for Air New Zealand's twice-weekly service starting next month. I check in at the four-star Matavai Resort and get a first-hand experience of the changes. My room overlooks the ocean and provides a grandstand view of passing humpback whales. The whales, and the chance to spot them or swim with them, are prime attractions for the island.
The best way to unlock the secrets of this lonely outpost in the South Seas is to join the Commodore's Island Orientation Tour.
Keith Vial is Commodore of the Niue Yacht Club, which hires 20 moorings to the cruising fraternity.
Keith is a bon vivant, raconteur and one of nature's gentlemen. He drives us to stunning Avatele Bay, Avaiki's Cave of Kings and Matapa Chasm swimming hole. On the western coast road, I notice the roads are sealed, lawns are mown, gardens well-tended and there's no roadside litter or graffiti. People obviously take pride in their properties here.
We visit the yacht club which, Keith casually announces, doesn't possess a single yacht and no one on the management team can sail. Never mind, I will still wear the official cap proudly and share the passion for this very popular little bolt hole on the yachties' "Coconut Run".
Sunday is a day of rest when the island settles into its most peaceful mode, sans work, fishing and hunting. Inbound tour organiser Hima Douglas accompanies me to a traditional church service where the women in their immaculate white ensembles and broad-brimmed hats harmonise beautifully with the powerful bass voices of the men dressed in black.
After the service we have a pleasant chat with Young Vivian, who once served as Niue's premier. He is keen to see tourism flourish in the hope that many of the 23,000 residents who left the island for the bright lights of Auckland will come home. About two-thirds of the island's homes are vacant and the current population fluctuates between 1100 and 1600.
Later at Mutulau Village on the northern tip of the island, I meet Tony Aholima, a big, muscular man with unruly black hair who leads me on an exciting night trek to sink holes where giant coconut crabs called uga (pronounced "oongah") venture out to feast on ripe coconuts. The prehistoric monsters are built like tanks and Tony delights in telling me that their powerful pincers can amputate a human finger. Of course I just have to pick one up. My fingers are still intact and I can report that the world's largest arthropods make a delicious meal.
By day four, I feel right at home on the atoll. I wave to the locals and dodge the feral cats, nodding hens and strutting roosters that rule the road. There's no need to worry about the well-fed dogs; they lie about in dreamy indolence, eminently content with the laid-back island way of life.
I find myself constantly drawn to Alofi town, observing the low-key commerce of the market and gravitating to a lookout point on the high cliffs. It's easy to visualise Captain Cook attempting to land his cutter in the sheltered cove below, only to be driven off by a volley of coral rocks thrown by "savages".
I go diving at Snake Gully, one of Niue's signature dive sites with dive operators, Crystal and Shannon. Twenty metres down in Avatele Bay, Shannon and I encounter a curious white-tipped reef shark, a spiky lion fish and giant Maori wrasse. A bevy of banded sea snakes spiral up to us with unnerving, sinuous movements. When conditions are right, Shannon allows his clients to swim with whales and dolphins.
Fishing guru Paul Pasisi, with a powerful physique, a bubbling personality and a no-nonsense approach, inspired confidence that I would catch big kahuna fighting fish.
We troll up the west coast from Avatele to Mutulau at a steady eight knots with five lines out, baited with flying fish and coloured lures. After hours of uneventful trolling, a rod bends and line screams off the reel. Fully harnessed and straining hard for 25 minutes, I haul in an 18kg Pacific barracuda. Soon after, another angler reels in a 14kg wahoo, which is followed by a yellowfin tuna. We count the day a great success.
As my week-long visit draws to a close I continue to bump into local friends I have made as well as visitors I've shared excursions with. I begin to feel that the gentle people of Niue are all part of one big family and I've been adopted as one of their own. It could just be the most surprising "Rock" in the world.
CLOSE TO HOME
Niue Island is an independent state, free-governing in association with New Zealand. The locals speak both Niuean and English and the currency is the New Zealand dollar.
CHECKLIST
Getting there: Air New Zealand runs a weekly service from Auckland to Niue on Saturdays, crossing the dateline to arrive in Niue at 1.30pm on Friday. A second Air New Zealand service is planned to start next month.
Getting around: Niue Rentals (www.niuerentals.nu) have hire cars from $45 a day. Scooters and mountain bikes can also be hired
Online: niueisland.com niueyachtclub.com
* Paul Rush travelled to Niue courtesy of Tourism Niue and Air New Zealand.