The World's Best Family five-star Resorts? Nowhere does it better than Fiji.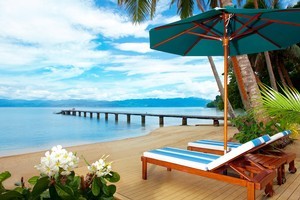 As any parent can attest, holidays with children is an oxymoron. There's the packing, the flight and often more travel at the other end before you arrive, tired and worn out, at the place where you relinquish your life savings for a week or so of rare, work-free downtime.
So when frazzled parents hear I travel with my now three-year-old, they get a certain look in their eye. Often they ask, desperation in their eyes, where in the world can they go on holiday where they'll get a break, too?
I have but one answer. Fiji. And for time-poor families these two resorts are unrivalled.
Jean-Michel Cousteau Fiji Island Resort
This five-star eco-resort situated on the island of Vanua Levu, Fiji's second-biggest island, is possibly my favourite spot in the world. The eco property, which offers 25 bures on a former coconut plantation, has collected a string of accolades over the years.
Frommers dubs it "the finest family resort in the South Pacific" and you only have to look at the multiple entries on tripadvisor.com to realise it offers something truly special. It was our third time at the resort. It's where we were married at sunset in a beachfront bure. We loved it before we had our child but with Ella in tow it really showed us how brilliant it is for families.
Here, parents can hand the children to specially trained nannies and staff, relax by the pool, go snorkelling or diving in world-renowned reefs, have lunch by the pool, and stroll hand-in-hand along the sand to a romantic candlelit dinner safe in the knowledge your children are in the best of hands.
Every child under 5 gets their own nanny from 8am to 9pm each day. Children up to the age of 13 are paired with a buddy (with a ratio of one buddy for a maximum of five children) and all children have free access to the Bula Club, considered the best kids' club in the Pacific by many in the travel industry. Activities include spearfishing, snorkelling, Fijian basket-weaving, fishing, volleyball, hiking and kayaking. Younger children do face-painting, T-shirt painting, crab-hunting, shell-collecting, basket-weaving, visit a local village and more.
On our arrival we were greeted with a big "Welcome Home" banner and several staff members, who we'd met on previous stays, serenaded us with a welcome song. We caught up with Jope, who had been our unofficial best man, and hugged Camari, our favourite waitress. General manager Greg Taylor greeted us like long-lost friends over a welcome cocktail. Ella, however, was nowhere to be seen.
"Don't worry," he told us. "This is what you'll experience pretty much most of your stay." Ella had been scooped up in the arms of her nanny Joana and was being shown around the Bula Club. By day she was entertained, fed and kept active while we lazed by the serenity pool, went snorkelling and diving at world-class dive sites for which the area is renowned (hence the Cousteau connection), swam laps between the jetty and the pontoon, had a picnic on the resort's private island Navivia, read books and slept like there was no tomorrow.
By night, Joana watched over Ella as she slept so we could have a romantic three-course dinner by the lantern-lit pool, while hand-sewing a Fijian outfit for Ella to wear to her birthday party at the resort. So be warned: this is the sort of holiday where you may find yourself missing your children, and where subsequent family holidays pale in comparison.
Information
The rate for two adults and two children 12 and under starts from $1081 plus 20 per cent tax a night for a garden view bure, inclusive of all meals, bottled soft drinks, Fiji water, speciality teas, ground coffee, most activities, Bula Club for children 9am-9pm, exclusive nanny for each child 5 and under, Fijian buddy for children 6-12 years and return vehicle transfers. The resort is currently offering a stay of four nights or more and receive two nights free. The Dive and Rejuvenation family package includes three days of free dives and three one-hour massages (conditions apply). Phone: +61 3 9815 0379.
Vomo Island does five-star, family-friendly in a similar vein to Jean Michel Cousteau. Plus, it's the only offshore, five-star island that welcomes children year-round. Privately owned and luxurious, this 91ha atoll offers just 30 villas and is one of the closest Mamanuca Islands to the mainland - a plus when travelling with kids.
Once there you'll discover postcard-perfect white sands and beautiful coral reefs, ideal for safe snorkelling, deep-sea fishing, scuba-diving, glass-boat expeditions and fantastic kayaking. Vomo's beach, which runs around the island, is child-friendly and terrific for building sandcastles, collecting seashells and swimming at all tides.
There's also a gym, hiking, jogging tracks, and a luxurious day spa, but what impresses guests the most, says general manager Wayne Milgate is the island's incredibly, warm staff who dote on children and help busy families reconnect.
During peak season, Vomo offers the Turtle Club, an organised kids' club that entertains children with Fijian games, fish-feeding, singing, art and crab-hunting and then provides an early dinner and babysitting service at night. They'll learn about Vomo's turtle awareness programme too, which helps protect the Hawkesbill turtle's traditional breeding grounds and shows kids how these huge creatures can be saved from extinction.
Outside school holidays, Vomo can arrange for the kids to be looked after while exploring the island and learning about flora and fauna, or helping out at the turtle sanctuary.
There's also a nanny and babysitting service so parents can enjoy arguably Fiji's best sunset from the Rocks Bar with a cool cocktail in hand.
"All of our staff who live on the island for 10 days at a time have kids, so while they're away from their own children, they embrace guests' kids," says Milgate. Vomo offers 28 luxurious, air-conditioned villas with a choice of beachfront or hillside villas and many can interconnect.
For unforgettable family luxury the Royal Villa has three en suite bedrooms and a private pool. The Residence Villa is pure decadence with four en suite bedrooms, a private pool and butler service.
Information
The rates for two adults and two children under 12 starts from $1183 a night (inclusive of taxes) in a garden villa including all meals in the main restaurant, non-alcoholic drinks with meals, daily laundry service, complimentary bottle of wine and fruit on arrival, all non-motorised watersports, sunset canapes in the Rocks Bar, traditional weekly Meke performance, manager's cocktail party and Turtle Club during school holiday periods. Extra bedding for children is $35 per additional bed. Food and beverage for children 5-12 years is $85 a day. Children 0-4 stay and eat free. Nanny service costs $7 an hour. Phone: +679 666 7955.