Niue is almost an empty country, writes Jim Eagles, but there's still plenty to do there.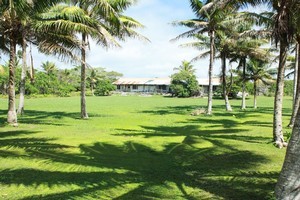 Derelict buildings are everywhere in Niue. In many villages it looks as though a majority of homes lie empty, roof iron rusting, window frames devoid of glass, doors boarded up and gardens overgrown with tropical vegetation.
Driving into a village and finding it seemingly populated only by flocks of chickens and a few dogs you could almost imagine you were in a medieval town struck by the plague ... except for the neatly mown verges and immaculate village greens.
Some of this desolation is the legacy of Cyclone Heta, which smashed the island in 2004. For instance, all that's left of the Niue Hotel, once the island's showpiece, is the reception area, which is now a bar.
But most of the empty places are the result of migration to New Zealand. Niue's population peaked at about 5200 in 1966. These days, about 1400 people live on the 260sq km lump of rock - and about 25,000 Niueans are in New Zealand.
Needless to say, islanders are not necessarily happy about this.
Former premier Young Vivian - who I bumped into while he was enjoying a late-morning glass of wine at Mamata's Ice Cream Cafe Bar - said the declining population was "a crime" for which the New Zealand Government was to blame.
But if you're a visitor the lack of people does make Niue an incredibly tranquil place where a sightseeing drive around the island - top speed 60km/h, 40km/h in villages, and almost no traffic - can be marvellously relaxing. And the abandoned air of many villages does create an alluring air of mystery.
Roz Tafatu-Hipa, who gave us an introductory tour of Niue, kept apologising for all the tumbledown structures.
"They make the place look scruffy," she said. "I've told them all these empty houses should be knocked down. But the people living in New Zealand like the idea of still having a home back in Niue so they won't do it."
I don't think Roz agreed when I suggested the presence of all these derelict places gave the island a romantic feel, a bit like one of those Western ghost towns, which I found rather charming.
I later discovered that the Niuean Government is discussing a plan to demolish any hazardous buildings and develop some empty houses as tourist accommodation, likely to be needed as a result of Air New Zealand putting the bigger A380 Airbus on the weekly service to the island, boosting capacity by 20 per cent.
But it's not only houses that have been abandoned. In most villages there are also the local primary schools, closed when education on the island was centralised at Paliati.
Some have been turned into community centres with weaving rooms and gymnasiums. But others have been left to rot because the families who owned the land could not agree what should be done with them.
As you wander round the island you also come across lots of government projects - big and small - which seem to have been abandoned. At the canoe landing for Hakupu Village, a spectacular spot where huge waves smash against the coral cliffs, we found a newish toilet block standing sadly, its water collection system collapsed and vines growing through the doors. It was just one example among many.
Probably the most dramatic of these forsaken projects is the huge Niue Fish Processors plant, a joint venture between the Niue Government and Reef Shipping, which closed in 2007 after only two years in operation because of poor catches, rising costs and problems with whales.
Another joint venture between the two, Pure Pacifika, is still producing noni juice from a plantation on the site of the island's old quarantine station.
Noni, which grows wild on the island, smells and tastes disgusting but is considered to have amazing healthgiving properties, and the plantation ships about 100,000 litres of juice a year, mostly to China and Japan.
Visitors can tour the plantation, with its 80,000 trees, and the plant, where noni fruit is processed, left to mature for six months in barrels, then juiced and pasteurised.
The grand finale is the chance to taste some of the juice, which proved every bit as bad as I remembered but - rather like the old castor oil slogan "It must be good, it tastes so bad" - I'm sure it must have done me good.
Pure Pacifika's plans for similar operations producing limes and vanilla - which also grows wild on Niue - have come to nothing.
But we were able to visit a one-woman vanilla plantation run by Noga Bray, who cleared the land, planted the 500 vanilla vines and the trees they grow on, hand-pollinates each flower - a delicate operation which has to be performed within a few hours of the flower opening - harvests the pods and vacuum packs the finished product at home.
Noga exports some vanilla to Australia and has recently sent samples to Austria but is still looking for steady customers. "There are a lot of small growers and vanilla grows well here," she says, "but the big disappointment is we've never been able to find a good market. It's not easy trying to develop a new industry on Niue."
CHECKLIST
Getting there: Air New Zealand has a weekly service to Niue, which runs on Saturdays.
Where to stay: The 22-room Matavai Resort is at matavai@niue.nu.
Further information: To check out things to do click here.
Jim Eagles visited Niue as guest of Air New Zealand and Niue Tourism