A 10-year Fiji pact proves a winner, writes Karen Caso.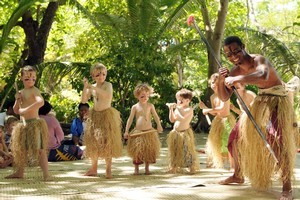 Ten years ago a group of us made a pact: whatever happened, come hell or high water, we were going to celebrate our 40th birthdays together in a tropical paradise.
Whatever our personal situations - mobbed by children, married or single - it was the immutable landmark on the horizon.
My situation, as it turned out, was a husband and two kids, aged 3 and 4, and most of the others had similar ties.
But, true to that long-ago pact, off we went to Fiji.
Paradise? We stepped out of the airport and it was wonderfully hot. Soon we reached the comfort of the Fiji Beach Resort and Spa on Denerau Island and it was marvellously air-conditioned. We rang the first echelon of friends who were at the bar (while their kids were being babysat) and enjoyed a fabulous cold beer. Yep. Paradise.
Next morning, after a great night's sleep, I had visions of dropping the children off at the Kid's Club. Instead we spent pretty much the whole day at the pool with our mates and their littlies.
I think we must have been in the water for six hours and everyone loved it.
In the early evening we headed to Sam and Jacko's for a kid's dinner and a few drinkies. It was fabulous being able to relax while our children played on the lawn under the coconut trees and took turns swinging each other on the hammock.
The rest of the crew arrived in dribs and drabs so there were kids galore by day two. They were in their element, swimming all day, exhausted by 7pm.
Most nights we hired a babysitter and it was just great to have a bit of adult time without having a child on my knee.
We had a couple of really good nights out fine dining, one night silver service and the others more casual, but all with a couple of cocktails under our belts and sand under our feet. It was just bliss to sit back, relax, catch up with good friends and share a laugh as we looked back over the last 10 years.
We did actually use Kid's Club once, when madam 4-year-old requested it, so we jumped on the shuttle and headed off for a bit of shopping at Port Denerau. We grabbed a couple of gift items and then sat at a bar, had another Vonu beer and watched the boats heading out to the islands.
There were plenty of activities on offer, from frog races and fish feeding to coconut husking and dancing, but the kids' vote was always for swimming and we were happy with that too. It was just nice to be doing your own thing at your own pace, island time.
After four days at the beach resort we caught a ferry to Treasure Island Resort and moved on to the second part of our holiday which started with a singing welcoming committee.
Being on a real island meant the pace was even more relaxed - very different from the hustle and bustle of Auckland life and our bures were on the water's edge with glorious views of the turquoise coral reef.
The kiddies loved it here and, once again, two seconds after arriving they were in their togs and off for another full day in the pools ... apart from the odd lemonade and chip break (thank goodness for the nutritious breakfasts or I might feel like a bad mother).
We lucked out by landing here on a Monday when the resort holds a weekly cocktail party so we were able to enjoy a cocktail courtesy of Treasure Island and meet some of the staff.
Again we hired a babysitter - I just couldn't believe they only charge F$7.50 ($5.50) an hour - which gave hubby and I time to enjoy each other's company without the demands of our littlies.
We had a couple of memorable nights on the island with the highlight being our friend Shane's 40th bash when the the resort surprised us with a cake and the gardening staff singing "happy birthday". These guys were amazing singers and I think in future we'll all copy them and sing "happy birthday" with the second verse of "may you live a 100 years, and drink a million Fijian beers".
We departed by speedboat not long after sunrise, sad to leave but with plenty of happy memories.
But at least we won't have to wait another decade for next time. We've just paid a deposit for same time, same place, next year for our 41st celebrations.
CHECKLIST
Getting there: Air Pacific flies from New Zealand to both Nadi and Suva.
Where to stay: Fiji Beach Resort and Spa on Denerau Island is managed by the Hilton Group.
The web also offers more information on Treasure Island.
Further information: See Tourism Fiji.
The Caso family's trip was assisted by Tourism Fiji.