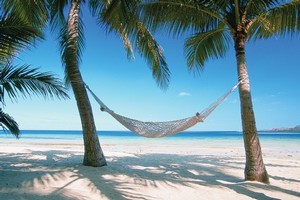 Receivers of the New Zealand development company behind the Fiji Hilton have told investors in the resort they will lose their villas if they go ahead with a planned lockout.
Villa owners owed an estimated $5.5 million in rental arrears have given notice they will lock their villas unless "meaningful discussions" with the receivers take place.
About 240 mainly Australian and New Zealand investors have bought rooms in the Denarau Island resort, known as the Fiji Beach Resort and Spa, managed by Hilton.
Aucklander Neville Mahon developed the resort but it has never been completed.
Owners get 10 weeks a year in their villas and the rest of the time Hilton rents out the rooms.
Mahon's companies, Denarau International and Denarau Investments, were placed in receivership last year and aside from one monthly payment made by the receivers villa owners have seen no rental income for almost two years.
At issue is their villa management agreement with Denarau International. The owners say their agreement guarantees them a 50/50 revenue split. But this conflicts with Denarau International's agreement with Hilton which is based on a profit share.
About 40 villa owners are now taking legal action on a variety of fronts, including the lockout move and a bid to have Denarau International liquidated.
Receivers KordaMentha wrote to owners this week warning them that locking their villas would breach both the management agreement and their lease.
"In the serious event of such a breach, we confirm that Denarau International (DIL) has the ability to terminate your Title Lease and take possession of your villa.
"If DIL is required to take this step, your rights in your villa ... will be forfeited, and you could permanently lose your investment in the villa and the resort."
KordaMentha reminded owners it had an injunction from the Fijian High Court preventing a lockout. The injunction was due to be reviewed by the court late on Friday.
The receivers referred to Herald on Sunday coverage of the dispute.
"Since the recent publicity of the prospect of a lockout, both Hilton and the receivers have been fielding queries from prospective guests, suppliers and, more worryingly, travel wholesalers, who have expressed real concern as to the certainty of trading and future business.
"As such, the receivers will take all steps necessary to ensure disruption is not caused to the resort's ongoing operation," they said.
Spokesman for the Villa Owners Legal Action Group, Graeme Knott, said owners did not intend to lock up their villas without the prior approval of the court.
"We ... have never conveyed to KordaMentha's solicitors that we would disobey the injunction."
The group was considering taking action against the receivers on the grounds they had never made an arrangement with owners about continuing use of their villas.
"The receiver has had almost a year to sort out the mess and despite the villa owners at all times being available to find a solution they have made no real effort," Melbourne-based Knott said. "It appears all chance of negotiating with KordaMentha is gone and we will only receive justice in the courts."
The legal action group does not speak for all villa owners. Auckland owner Sarah Hunter said she understood the frustration but would not be taking part in a lockout.
It was "ironic" KordaMentha was now invoking the management agreement when so many aspects of it had been breached, she said.
"It's a shambles."
STRATEGIC HAS CALL
Out-of-pocket investors in the Fiji Hilton must get the permission of failed finance group Strategic before they can receive long-awaited rental income.
Strategic Nominees has a debenture over rent due to owners of villas in the resort. Strategic is owed $75 million over the Fiji Hilton.
Receivers now in charge of the resort development company, Denarau International (DIL), confirmed last week Strategic Nominees "holds a first ranking security interest over all the assets and undertakings of DIL".
This meant Strategic was entitled to income normally paid to villa owners.
The receivers were due to make a $1.8 million payout to owners, their first in almost a year, but needed Strategic's consent to do so. They were confident of getting it.
Owner Sarah Hunter said the situation was the catalyst for an injunction villa owners gained last year freezing the income.