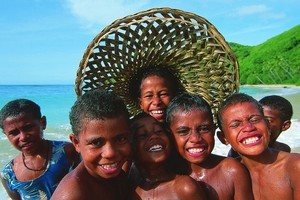 Greg and Helen Wragg have been coming to Fiji's Northern Yasawa Islands for more than 20 years.
It's not the perfect sunbathing beaches or the spectacular snorkelling that's luring them back, for the Wraggs - it's the Fijian people and their unique culture.
"A lot of tourists come to Fiji and they stay in the Sheraton or the Hilton and they never ever get to see the real Fiji, particularly the Fijian culture that exists in the Yasawas," says Greg.
For the past five years Greg and Helen have been bringing school groups of around 30 teenagers to live in a village - either Nabukeru, which is visited by Captain Cook Cruises, or Matacawalevu - for just under a week.
"They're changed people at the end of those five days," he said.
Life in the village is semi-subsistence and little has changed over time except for the introduction of Christianity and the phasing out of cannibalism.
Trips to the mainland by boat cost more than the average Fijian weekly wage.
Healthcare is non-existent and a yearly visit by a floating hospital is the only opportunity to have ailments looked at without a trip to Nadi or Lautoka on the mainland.
Through their association with the local Rotary club in Victoria, Australia, Greg and Helen make around half a dozen trips to Fiji each year.
Time in the Yasawas is spent doing everything from re-roofing the local church, installing solar lighting in the community hall to establishing educational scholarships for local students to attend the secondary school on the mainland.
On this trip Helen came with two extra suitcases full of baby clothes.
The latest project is to upgrade the school library and computer equipment, and get an electricity generator to run it all; the US$16,500 ($23,810) cost is expected to be met by Rotary.
"I've never considered setting a business up there," said Greg. "We're very careful and mindful of their cultural heritage and we don't want to alter it, so whatever we do we're careful not to change their cultural rules."
The 18-year-old cabin boy the couple met on their first cruise in Fiji is now 43 and is Greg's "eyes and ears" in Fiji.