Helen Twose finds cruising the Pacific with a toddler can have its ups and downs.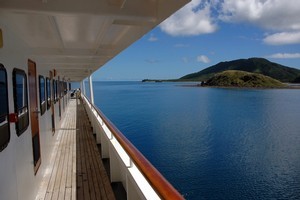 Toddlers, by their very nature, are creatures of habit.
They like being surrounded by their people, doing very predictable, ordinary things. A dream holiday for a 2-year-old would be a week at home with Mum and Dad with the occasional trip to the supermarket, park and library, plus the zoo thrown in for an extra treat.
Okay, maybe that's just my little guy, but one of the challenges of becoming a parent is to try to balance the notion of your ideal holiday with the reality of having a child in tow.
Offered a chance to cruise around the islands off Fiji with the family, my thoughts were of waking up anchored alongside a beautiful tropical island, the sun beaming down as we contemplated another day on the beach - a real getaway in paradise.
It would be our first proper family holiday - one that hasn't centred on going to a family birthday, wedding or Christmas - since Otis was born two years ago.
To say my husband was less enthusiastic would be somewhat of an understatement.
His vision was more akin to a damp disaster. He failed to see how the advertised activities that included sacred village ceremonies, island feasts and elegant dinners were at all compatible with a small child, to say nothing of the potential hazards of taking a curious (and strong-willed) toddler on a small cruise ship.
To be fair, we were both right.
Our floating home for four nights was the Captain Cook Cruises ship Reef Endeavour, a 73m ship built to take up to 168 passengers and 45 crew.
The Reef Endeavour's relatively small size and shallow 3.6m draft meant our cruise course could hug the coastline of the Yasawa Islands, giving us the best possible view of the landscape.
The Yasawas are a volcanic chain running to the north-west of Viti Levu, the main island in the Fiji archipelago, and our route took us up the western side of the island chain, dropping anchor alongside isolated and idyllic beaches, before rounding Yasawa Island at the far north of the chain for the return journey.
Of the 31 passengers on board, we were one of two couples with children, and fortunately 2-year-old Abby would become Otis' firm and fast friend for the trip.
The pattern for our days was taking a tender boat ashore to swim, snorkel or just simply lounge around building sandcastles - a winning trifecta for tots - before returning to the boat for meals.
With temperatures in the mid-to-high-20s and water akin to a lukewarm bath our water-wary kids became absolute beach babes over the course of the trip.
Our only other nautical friends were some dolphins, flying fish and a beautiful multimillion-dollar yacht, Nirvana, which shared an anchorage with us off the shores of Sawa-i-Lau, a towering limestone island near the northernmost point of the Yasawa chain.
It wasn't our only, admittedly slight, brush with celebrity.
The islands in the north of the Yasawa group were the backdrop for the 80s film Blue Lagoon staring Brooke Shields, and one of the main filming sites is now the luxury Turtle Island resort which has hosted the likes of Britney Spears and Jessica Simpson.
Off this island I spent several hours snorkelling over the most stunning reef. My head literally spun with the variety and colour of the sea life.
But cruise life wasn't just about the beaches.
We visited Ratu Namasi School on Yasawa Island where the school choir welcomed us with singing before we were taken on a tour of the classrooms, library and administration block.
For Otis it was a chance to blow off some steam playing tag with the local kids.
Later that day I ditched the boys on the boat for a trip back to the island to visit the village of Nabukeru for a spot of retail therapy - the local ladies sell handicrafts and shells - plus the chance to experience mouth-numbing kava and a song and dance celebration put on by the villagers.
Captain Cook Cruises don't have a kids club, as many of the island resorts do, but children are minded during dinner, and further babysitting can be arranged during the day so parents can make the most of the snorkelling and diving on offer.
Every night there was post-dinner entertainment put on by the multi-talented crew, but after a hard day lolling round in the sun I was usually ready to hit the hay by about 9pm.
Though the Reef Endeavour does have some of the resort-style accoutrements - cocktail bar, formal dinners and a beautician offering a full range of spa treatments including beach-side massages - the accommodation itself could be classed as more floating motel than floating hotel.
Rooms are small and furnishings are tired. Small children need to be in the same cabins as parents and even with plenty of storage room for bags under the beds, it is a tight squeeze once you include a travel cot.
Was all this suitable for a young child? Well, yes and no.
It was easy to relax into the rhythm of life on the boat, but at times Otis got frustrated at being kept under careful watch the whole day.
He is a kid quite happy to entertain himself but his relatively derring-do attitude didn't suit a boat with steep stairs and only a couple of side rails to keep him from tipping into the drink.
The ship had plenty of places for people to escape and read a book or watch the world slip by, but there were no spaces specifically set up for young children.
Not only did it mean packing toys to keep the littlies entertained- we were always conscious that our child might be ruining someone's quiet pre-dinner wine with whining of a different kind.
Life on the boat was run to fairly strict timetables and at times the need to hustle a small child around to fit in wore a bit thin. Toddlers don't respond to hustling at the best of times.
But the Fijian staff were always on hand to smooth the way. The kids were soon fluent in "bula", and there always seemed to be someone willing to pop a child on their hip as parents juggled beach excursion detritus.
The four days on the boat were packed with activities and took us to places we would never have otherwise been able to visit.
With the fabulous snorkelling and swimming on offer, I could see this trip really appealing to parents of school-aged kids looking for a few days' adventure beyond the resorts in a relaxed atmosphere.
The relaxed attitude unfortunately also extended to safety: at the time of our sailing there were no emergency life jackets on board for toddlers.
All Captain Cook's cruises leave from Denarau Marina, around 20 minutes from Nadi Airport, but the afternoon arrival times of most international flights and the 1pm departure of the four-day cruise means it is best to bookend it with a stay at one of the mainland resorts, either in Denarau or the Coral Coast south of Nadi.
We stayed at the Sofitel Fiji Resort at Denarau, which boasts the Pacific's largest lagoon-style pool featuring a fantastic shallow end for kids.
I have always been a bit wary of the resort-style holiday, having preferred to organise my accommodation, but now as a parent I can see the value of staying at a place where it is all on tap.
It was nice to have dinner in a grown-ups restaurant - we tried both the family-oriented Lagoon Restaurant and the casual dining Salt Restaurant - and to know your kids were welcome.
The Sofitel offered a kids' club and babysitting service, but we just enjoyed our time hanging out by the pool together.
I did sneak off and have a decadent hour or two to myself at the Mandara day spa - nothing like having a foot massage while gazing past tropical gardens at the sea beyond to clear the mind of work thoughts.
We had a day up our sleeve before boarding the cruise, so took a trip south of Denarau to the Sigatoka River for a jet boat river safari and village visit.
The Sigatoka River Safari whisked us past Fijian people going about their daily lives - swimming, fishing and tending crops - alongside a river that is the lifeblood of an area known as the salad bowl of Fiji. This is where the fruit and vegetables that feature in the resort restaurants are grown.
The visits, which last around two hours, are rotated among the villages flanking the river to ensure visitors do not impinge excessively on daily village life and get a more authentic experience.
On arrival at the village of Tubairata we were taken on a tour (shadowed by curious local children) before participating in a traditional kava ceremony. This is the point at which Otis bolted from our arms to romp around with the village kids.
The high point of the return trip was the jet-powered 360s. It looked like spectacular, if somewhat damp, fun from our shore-side vantage point.
We had opted out after discovering high speed thrills were not popular with the little guy. Otis had spent the entire boat trip clinging like a petrified possum to his dad and screaming - not with delight either - over the noise of the engine.
In hindsight this trip was a little ambitious for us so soon after arrival. The round trip from our resort was close to eight hours and although our young chap was extremely well behaved it was a long, hard day out for him. This is probably a good day-trip diversion for families spending the majority of their time in a resort and wanting to get out into the countryside to see a but more of Fiji.
It's hard to imagine what a 2-year-old thought of all this, but Otis still talks about "going to school" and throws on his shell necklace accompanied by a cry of "bula".
What to pack
* Lots of sunblock, insect repellent, anti-itching cream and an antibiotic such as Betadine to treat coral cuts
* Rash vest or similar to protect yourself from sunburn during snorkelling
* Snorkel gear if you have it
* A stash of kids' snacks and jars of ready-to-go meals
* Favourite drinking and eating utensils
* A big supply of essentials like nappies
* Kids' car seats for taxi transfers
* Check with cruise operator if life jackets on board fit smaller children
* Favourite books and toys for the down time
CHECKLIST
Getting there: Air New Zealand, Qantas and Air Pacific all have regular flights between Auckland and Nadi, Fiji. See airnewzealand.co.nz
Where to stay: Sofitel Resort and Spa at Denarau is 20 minutes from Nadi Airport and only a few minutes drive to Denarau Marina, the departure point for Captain Cook Cruises. Room rates start from approximately $265 per night for a family of four (two adults and two children under 12). Children under 12 have breakfast and dinner for free when dining with parents in the Lagoon Restaurant. Contact your travel agent or visit sofitel.com
Cruising: Captain Cook Cruises' four-night cruise around the Northern Yasawa Islands departs every Tuesday at 2pm, returning at 9am on Saturday. There are also seven-night and three-night cruise options. Early booking saver fares for the four-night Northern Yasawa Islands cruise start from FJD$1799 ($1291) per person twin share.
Captain Cook Cruises has a special to celebrate its 40th birthday, offering 30 per cent off all Fiji cruises, meaning the four-night cruise starts from only FJD$1574.30. The sale is valid to August 30, 2010 and is valid for travel until March 31, 2011. A separate children's bunk cabin is available at no additional charge with payment for two or more children aged between 3 and 17 years with accompanying parents or guardians.
Visit captaincook.com.au/fiji.asp
Sigatoka river safari: Half-day tours lasting 3 hours depart from the company's Sigatoka base from Monday to Saturday at 8.30am and 1pm. Cost is from FJD$210 for adults and FJD$99 for children (4 to 15 years), including transfers from resorts on the Coral Coast and Denarau. Children aged 3 and under are free. See sigatokariver.com
Further information: Visit bulafiji.com
Helen Twose travelled as guest of Captain Cook cruises and the Sofitel.