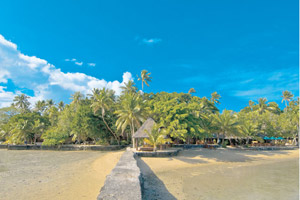 Fiji's image may be a uniform one of sunshine, palm trees and white sand but not everywhere is the same. Whatever your tastes, chances are one of the many resorts will tickle your fancy. Invariably, they all offer great activities, creature comforts, and greet you with great big "Bula". If it's just a matter of whether you want to travel a few minutes once you land at Nadi International Airport, or make the effort to get away, or sample the established and famous, or experience the very latest Fiji has to offer, here are four suggestions.
The Near: Sonaisali Island Resort
Twenty-five minutes after you leave Nadi Airport, you'll be looking across a 300m stretch of Pacific Ocean to the Sonaisali Island Resort. Within a couple of minutes, the shuttle boat will have delivered you to the resort.
We didn't arrive until late afternoon and within an hour, Jone is plying us with bubbly and plates full of canapés as Captain Freddy takes us on a sunset cruise.
I was seduced into a Fiji feel by the breeze, the golds and yellows, and the gentle pitching of the catamaran.
Back on land, everybody is eating in the open-air restaurant by the pool, listening to the house band. But we are splashing out in this air-conditioned restaurant, The Plantation. While one waiter created the Caesar salad entrée tableside with lettuce from the resort's hydroponic farm, our other waiter delivered my twice-cooked muscovy duck salad. Gluttony convinced me to conclude this multi-course meal with the steamed coconut pudding. And I'm glad it did.
And now, the stars are out, the breeze has softened, we feel the warm ocean wash around our feet, and we're less than 25 minutes from an international airport.
The Distant: Wananavu Beach Resort
One of the good things about Wananavu is its distance from Nadi International Airport. The 130km is a good buffer between the time spent in an aluminium tube at 30,000 feet and planting your feet somewhere secluded and beautiful. Driving there, my partner and I saw old trucks stacked high and wide with sugarcane, we drove through villages with their houses painted such fantastic colours as bright pink, lilac grape, and fluorescent lavender, we had time to buy some mandarins from local markets, and we were greeted everywhere with "Bula!" from all and sundry.
So as the 4WD scrambled up the short, notorious road-cum-track to Wananavu, at the northern-most tip of Viti Levu, we felt the effort of driving here made this secluded resort even more special.
And it's easy keeping the world out because there is no TV, radio, or phone in the room. The world from our private deck is a blue sea turning deep purple as the sun goes down. And many guests are here just to scuba-dive in that ocean. Sites like Breath Taker and Golden Dreams are, they tell me, a dive worth the drive.
The Famous: Toberua Island Resort
There is an image of a South Pacific island that has lived in my imagination since childhood. The island is small enough to walk around in 10 minutes. Small paths meander through coconut palms and other tropical plants, generating dappled sunlight. On the leeward side, the ocean has built up a beach of white sand that feels finer than icing sugar. The island is protected from stormy seas by large reefs. And, of course, it's inhabited by people who treat visitors like royalty.
This island, as it turns out, is in Fiji. An American bought it as his hideaway in the 1960s, converting it to one of the country's first luxury resorts.
But it's not famous because it's been here a long time or because it looks like a child's drawing of a tropical island or because the bures are built in the traditional manner of branches lashed together with thatched roofing. It's famous because guests are treated like royalty, without the pomp. That's why more than eight people in 10 continually return. Rather like returning to a childhood dream.
The New: Intercontinental Fiji Golf Resort & Spa
As a boy, Navi Gagalia used to come to Natadola Beach from Suva with his grandmother. It was easily the best beach on Viti Levu. She would sit under the guava tree and Navi would play along these white sands and swim. They would have a picnic, pick mango from the tree, and go home.
Today, those trees are gone and Navi is the business development manager of the Intercontinental that sprawls along Natadola Beach.
Less than a year old, this resort is impressive; from the 271 rooms with Cleopatra-style bathtubs on private terraces, to the family swimming pool (one of four) being over 100m long, with plenty of shallows and fountains, to the ocean-side glass-walled wedding chapel with three cameras for live website feed, to the golf course with water views from 15 of the 18 holes, to the spa offering treatments from yadra to wasa to qito.
And while the environment of Navi's childhood picnics has changed considerably, Natadola is still the best beach on Viti Levu.
CHECKLIST
Getting there: See Air Pacific's timetable.
Further information: To find out about visiting Fiji visit bulafiji.com.
Chris Samsara was hosted by the above resorts, Air Pacific, and Tourism Fiji.