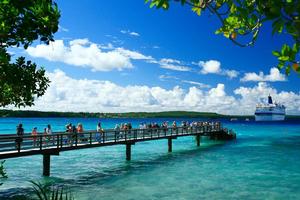 A budget vacuum at New Caledonia Tourism has seen media chef Julie Le Clerc's role as gourmet ambassador to the Pacific Island nation halted and marketing work taken in-house.
As the tourism industry heads into prime winter holiday season, New Caledonia has yet to set its budget for this year.
Regional manager Karen Priest put the delay down to changes at the organisation's head office in Noumea and in the New Caledonian Government.
The French colony's local public relations had been handled by the Media Counsel, an Auckland agency that folded in February due to financial difficulties.
However, Priest said the contract had been up for renewal and New Caledonia Tourism was not looking to appoint another local PR company.
Deputy general manager Jean-Michel Foutrein said New Caledonia Tourism had been working on a new global strategy which it was about to roll out. The budget for marketing activities was also near to being confirmed.
"Our new approach will be more concentrated on media, destination brand marketing and journalist visits to increase awareness of New Caledonia as a tourism destination." PR activity would be handled by its New Zealand office in conjunction with Noumea, he said.
Earlier last week Priest expressed uncertainty over the future of her office but Foutrein said the New Zealand and Australian bureaus would "certainly not" be closed.
Just 17 months ago the organisation announced that Auckland-based Le Clerc, a Cordon Bleu-trained chef and author of 10 cookbooks, would be a gourmet ambassador for New Caledonia in the New Zealand market.
The self-confessed Francophile managed to escort one tour late last year before the ambassador role ended.
New Caledonia's food was its key point of difference with other Pacific Island tourist destinations, and she hoped the tours could continue on an ad hoc basis.
"It's only a two-and-a-half hour flight and you may as well be in France as far as the food and wine experience is concerned.
"We've gone to a lot of trouble to work towards those tours. It's silly not to continue with them."
Foutrein said once the tourism body's plans were finalised it would look to continue working with Le Clerc in a way that was "mutually suitable to both parties".
Brent Thomas, retail manager for House of Travel, said the Pacific market was fiercely competitive and Kiwis were quick to change destinations.
Last year there had been a shift away from Fiji towards the Cook Islands because of Fiji's political situation.
Marie Pilkington, spokeswoman for the Flight Centre, said they had seen a lot come out from the other islands already this year.
"We haven't heard anything more from [New Caledonia] so we'll be interested to see as well whether they're going out with tactical or brand."