Every one of Sig Zane's shirts is a piece of Hawaii, says Jim Eagles.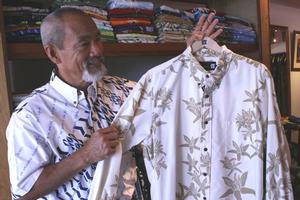 Sorry, but I didn't bring a brightly coloured shirt back from Hawaii. I knew that's what I was supposed to buy as a souvenir. And just in case I'd forgotten I received several emails from friends expressing interest in seeing my garish choice. But they'd have been disappointed.
I did buy an aloha shirt but it's certainly not garish. In fact it's colouring is extremely muted. But that's because it is about as authentically Hawaiian as you can get and was inspired not by tourist traditions but by Pele, the goddess of the volcano.
The aloha shirt was apparently devised in the early 1930s by a Chinese merchant who began sewing brightly coloured garments for tourists using leftover pieces of kimono fabric. The Honolulu Advertiser newspaper coined the term aloha shirt and a new industry was born.
These days the touristy parts of Hawaii are filled with aloha shirts, usually being sold to the accompaniment of merry ukulele music, their bright colours, casual style and cool (in the sense of temperature) design making them the perfect thing to wear for a holiday in the sun.
The headquarters of the aloha shirt is probably Hilo Hattie's store in Nimitz, Waikiki, which has the world's largest aloha shirt on display in the foyer - said to be 400XL - and boasts the world's "largest selection of Hawaiian fashions and gifts".
This is an extraordinary place, packed with an amazing range of gaily coloured shirts and dresses, shorts and tops, all at remarkably cheap prices - and all made in Asia.
But I didn't buy anything there because I was eager to see the aloha shirts produced by a man I had heard about via the internet, Sig Zane, whose garments are made locally to designs based on the plants, flowers and landscapes he sees around him on the Big Island of Hawaii.
To do this means travelling to Hilo, Hawaii's second city, but a far cry from the glittering modernity of Honolulu. Hilo is an amiably down-at-heel place, which looks as though it hasn't changed much - or had a coat of paint - since it was a booming sugar plantation town a century ago.
Zane's store, with his studio above, is also olde worlde, though immaculately maintained, all dark brown wood and soft lighting, and the man himself exudes a similar gentle olde worlde charm.
The business of making aloha shirts began, he explains, because "I knew how to silkscreen and I started using that talent to make gifts of love for my girlfriend who is now my wife. And, really, I am still doing that, still making things for her."
What Zane didn't tell me, but several other locals did as soon as I mentioned his name, is that both his mother-in-law, Edith Kanaka'ole, and his wife, Nalani, are considered to be descendants of Pele herself, and are hugely respected teachers of a strand of hula sacred to the goddess.
However he did say that he has been "a student of hula for the past 30 years" and that this had led to him feeling close to the great forces of nature.
For instance, he said, "when there's an earthquake here we say, 'Yeah, auntie is dancing', and when there's an eruption we say, `Auntie is having an orgasm'."
Zane also explained that his shirt designs were "an attempt to share my knowledge of hula, of plants - especially plants significant to hula - and of Hawaiian traditions in an artistic form. Every piece has a story."
To achieve that Zane personally draws each of his designs, screen prints it and hand cuts the cloth. "Then, with the help of my son, it is scanned and emailed to Honolulu to be handprinted and sewn."
The resulting aloha shirts are not cheap - much more expensive than those on sale at Hilo Hattie's - but they do look like works of art... and they are not garish.
After meeting Zane and seeing his work I definitely wanted one of these aloha shirts. I chose a long-sleeved shirt - more suitable for New Zealand's cooler climate - in muted white, brown and coffee tones. I tried it on and both Zane and my wife approved. "You are," he said courteously, "doing credit to my design."
So what, I asked, was the story behind it. "Ah," he smiled. "This is the coffee flower. It is not a native Hawaiian plant. But it is a plant which became established here a long time ago and it has become very important to us.
"The coffee flower is pure white and when the plants flower all at once it looks as though the island is covered with snow.
"So we say that Hawaii is the only place where the land can be covered in a blanket of snow - ke hau kea - while still hot with the heat of the sun and volcanoes."
It's a good story to wear. And a beautiful shirt.
CHECKLIST
Getting there: Air New Zealand flies direct to Honolulu up to three times per week.
Where to stay: Shipman House in the city of Hilo is a charming luxury bed and breakfast in a historic mansion and a great basis for exploring the volcanic attractions.
Sig Zane: Sig Zane's store is on the web at sigzane.com. You can see a video clip featuring him here.
Further information: See discoverhawaii.co.nz.
Jim Eagles visited Hawaii as guest of Air New Zealand and Hawaii Tourism Oceania.