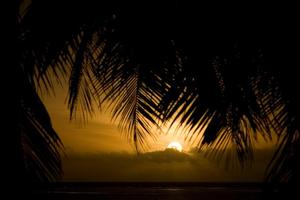 As I loaded Eleanor into her car seat she asked hopefully, "Daddy, are we going to Rarotonga?"
"No, baby," I replied, "we're going to Pak'nSave." It was a moment of shared disappointment.
Eleanor, at 2, has yet to realise we can't just visit Pacific islands on a whim.
I, as an adult, am acutely aware of this and increasingly see overseas holidays as a luxury in these tough times.
In fact, since Eleanor was born, I have often wondered - while wistfully watching travel shows on TV - whether we would ever manage a trip abroad again.
But for once the stars had aligned. We found we had the air points for a flight to the Cook Islands and, after some careful searching, the internet provided us with a list of rental properties that we could afford.
Mel and I had generally stayed in backpacker hostels when we travelled but our changed family circumstances meant our needs were different and, happily, we found we could rent a nice home that satisfied our requirements and cost less than a motel.
Our four-hour flight was remarkably carefree. Eleanor quickly settled into a routine of watching cartoons, drawing or reading her books, interspersed with leg stretches to check out her fellow passengers.
In fact, so settled was she that she fell asleep on the descent into Rarotonga.
Carrying her sleeping form through customs we were delighted to be waved through to some seats and told to come back and complete customs requirements when we were settled down. Definitely not the approach you'd get at LAX.
Eleanor woke up from her nap just in time to be garlanded with a frangipani-scented lei. Her beaming smile said everything and we sensed we would be in for a wonderful holiday.
We often think Eleanor has been around before and now we reckon she must have been a seasoned traveller.
As we loaded our bags in the back of a minibus, Eleanor looked at her mum and said, "I think it's going to be bumpy," and sure enough we all bounced around until we reached our home for the week.
Are Meika - or Banana House - was just what we wanted, a large home with two rooms, furnished in a sparse but comfortable style ideal for relaxing, a spacious garden and with the dramatic, rainforest-fringed mountains as a backdrop.
Crucially for a family with an adventurous toddler, the Banana House was about 10 minutes at toddler speed down a little-used lane from the main road and the constant attempts by tourists and locals to emulate Valentino Rossi on a moped, allowing us a chance to feel part of the real family life of the island.
We quickly adjusted to Raro-time and made sure we enjoyed the best of the island on our strict budget. Feeding chickens our scraps, counting piglets and collecting coconuts kept Eleanor amused enough before we ventured to the beach.
Forays further afield were by bus - easy to navigate because they either go clockwise or anti-clockwise round the island - so we bought 10-trip tickets to maximise savings.
It amused us to see so many Aucklanders treating the bus as a novelty or holiday must-do... if only they realised the joys of the bus exist at home.
On board we chatted happily with tourists and locals alike, Eleanor being a great one for getting conversations flowing. From the bus we were able to plan outings based on what appealed to us as we cruised around, spotting the best, sheltered beaches or ideal picnic spots.
Having our own base meant we were able to cook meals or prepare for outings using the food we had brought over from New Zealand, saving on the high costs of the local supermarkets or cafes.
Packing our bags at home, I had felt like a sales rep preparing for a tour of the local grocers, filling every spare space with bags of pasta, long-life milk or tins of tomatoes. But it paid off brilliantly.
And cutting costs didn't mean we missed out. The beauty of the island comes free. Playing on beaches, paddling in the gentle surf, meeting the locals and wandering the markets are five-star experiences without the price tag. We might not have been dining out in the flash restaurants, but even homemade spaghetti tastes great eaten in such a setting.
Being a winter break, we really appreciated the opportunity to relax on the beach while back home temperatures fell.
The smooth, soft sand gave Eleanor endless fun as she made sandcastles and watched the tide fill the moat she had dug around them. For us, the routine of visits to the beach and picnics was just right but Eleanor had the taste for adventure and, sure enough, adventure found us.
Walking along the road early on a Saturday morning as we waited for whichever bus - clockwise or anti-clockwise - would arrive first, we were offered a lift to market by a friendly local woman.
Nina worked for the tourist board and her kindness and the excitement of the market to which she took us demonstrate why the island continues to be so popular.
The Punanga Nui market was a hive of activity. It seemed many locals view it as an opportunity to catch up as much as shop, but tourists are also catered for with a vast array of craft stalls and cultural displays.
After wandering around with her mum, Eleanor came and told me of seeing, "Three ladies with bras and no T-shirts."
On further investigation it appeared it was a dance group playing for the tourists and selling CDs so a taste of Rarotonga could be taken home.
Eleanor was also keen for a taste of Rarotonga. She tried milk straight from the coconut and enjoyed papaya juice but really impressed us with her liking for ika mata (raw fish), which she devoured while sharing a table with a local family also making the most of the culinary delights on offer.
Heading for the bus home we stopped off in the sadly dilapidated playground. Rusting swings and a seatless seesaw still managed to attract a good crowd of local kids. Eleanor soon found a special friend in Matthew and they happily showed off their ABC skills as I struggled to push them around on a merry-go-round that would have doubled as a good scrimmage machine.
As a holiday on a tight budget, it couldn't be beaten. We enjoyed all the best of what Rarotonga has to offer. Eleanor has some memories we hope she keeps. And we still have a few dollars in our pockets to prove great times don't have to cost the earth.
CHECKLIST
Getting there: Air New Zealand fly direct from Auckland seven days a week. See airnewzealand.co.nz for last-minute deals. Flight time from Auckland is four hours. Departure charge is $55.
Getting around: The Round Island bus costs $4 per trip or $25 for a 10-trip ticket. Buses travel every hour and take approximately 50 minutes to circle the island. Rental scooters and bicycles are available from $15 per day (Cook Island licence required).
Rental property: Both rentraro.com and ck/private.htm have comprehensive lists of rental property with prices ranging from $500-$3000 per week. Rental properties will arrange shuttles to and from the airport for $20.
Things to do: Visit the Punanga Nui Market on Saturday morning in downtown Avarua for great food, crafts and island life. Sunday morning visits to local churches are another must-do to meet the locals and hear some wonderful singing. Beaches and snorkelling make it a real holiday and Muri Beach in the south east is one of the best.
Further information: See cook-islands.com