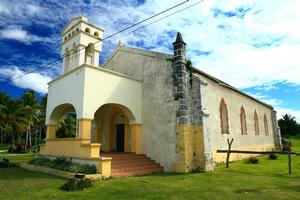 When I get off the planein Lifou my head is still in busy-city mode, Auckland's sprawling suburbs, smart cafes and congested motorways having been replaced with Noumea's equally urban images of French chic and high heels, sun drenched cafes, nasty four-stroke motorbikes, groomed fluffy dogs, men with gym-sculptured torsos and marina rows of white yachts.
So it's a laid-back change to see the people meeting the plane all wear jandals, the women have bright, floral neck-to-calf-to-elbow missionary dresses - pretty but not chic - and hens with chicks confidently roam the carpark.
Our hired car is a little white Renault van but my husband Sam is relieved of driving duties as we a have a guide for the first of our three Lifou days. Paulette sets the sedate pace - she doesn't try anything as racy as fifth gear - as we trundle the 76-kilometre length of the island.
Lifou is mostly flat, the roads often straight and an oncoming car is rare enough to wave at.
We pass villages straggling around a church. Some have a primary school, playing field and a store. The churches are stone-built and old, and are, along with the much-loved cover-all dresses the women wear, and a passion for cricket, part of the imprint of the LMS (London Missionary Society) missionaries who arrived in the 1840's to spread the gospel's word.
Hibiscus hedges edge the road and village gardens are enormous. Trim lawn is dotted with coconut trees, fragrant frangipani and dazzling oleander. Large vegetable patches are lush with yams, cassava, sweet potatoes, pawpaw, bananas, avocado and citrus.
Each property has a case, the traditional, conical, wood and straw houses that Kanaks have lived in for centuries, and many also have a Western-style cottage. Paulette explains that a case is the first house a couple has when they get married. They cost nothing to build as the bush provides the materials and village people get together to construct them.
She also tells us that 10,000, or so people belong to Lifou but 5000 live here; the rest are out of the island for work or education. Three district kingdoms each have a high chief and the 135 villages each have a little chief. The chiefs have many roles; leader, policeman, councillor and mediator. There are also a few gendarmes, "real policemen", in the main town, We.
The town of We straddles the point where the three kingdoms meet. It's bigger than a village, with too many cars to wave at, a couple of supermarkets, two churches, the district high school, the administrative centre and a port and marina.
With baguettes and sandwich-makings we picnic under trees next to We's trump card: a perfect beach. It's a three-kilometre half-circle of fine white coral sand with palms along one side and greenish blue, perfectly clear, sunshine-filled sea. I want to swim, sleep in the sun, then swim again.
Instead, as there's only an afternoon of Paulette left, we get back into the van and amble towards the southern end of the island. The road is close to the coast, there are tantalising glimpses of sea through trees and, at the end, we stop at a high place and peer down cliffs to the coral-filled sea below.
On the return journey we visit the grande case at Hnathalo Village, which belongs to the chief of the northern kingdom. It's surrounded by a circular wooden fence and, on either side of the two adjoining doors, with carved doorposts recalling the ancestors. Elders gather here for discussions and celebrations and this, like other grandes cases, is a sacred space into which one must be invited.
The next stop is in the west: the 1898 chapel of Notre Dame de Lourdes stands high on the tip of Easo Peninsula, with a silver statue of the Virgin standing on the roof looking out to sea. The exterior is French in ambience but the pink and blue interior and abundance of bright plastic and real flowers, is pure Loyalty - the archipelago of islands of which Lifou is one of in the French territory of New Caledonia. Paulette leaves us and Sam drives the little van in the Lifou manner; slowly, with his left hand resting on the steering wheel, always ready for a low-key fingers-spread wave.
The Drehu Village Hotel is beachside and soon after checking in I'm in the sea that has been teasing me all day. It's divine.
Our exchange rate is so miserable that, in favour of thrift, we forgo a meal at the hotel and head for the port, to the only restaurant open this Saturday night. Thai Siam has faded Christmas decorations, fans black with time and grime, pictures of puppies on the wall and an old fluffy dog shuffles between resting positions on the floor. It's run by a polite, elderly Indochinese gentleman, of French ethnicity, who was forced to leave Saigon during the 60s, and his smiling, also elderly, Thai wife.
There's a table of seadogs drinking beer and telling yarns outside; young, dreadlocked men of mixed ethnicity drink beer inside and Kanak families dressed in their best enjoy steak and chips. The ambience is pure Somerset Maugham and the sweet and sour prawns are the world's best. I love the place; it's totally retro without meaning to be.
On Sunday, after lazing away the morning while everyone else is in church, we drive north to Jonkin to visit Chez Felix, the garden of Felix and Jeanine Bole. In this beautifully groomed jungle a tree canopy filters harsh sun, turning the air chlorophyll green, and prisms of light shine on palms, ferns, orchids and dangling creepers. Walking through the garden searching for Jeanine is an Eden-esque experience.
Jeanine is in a glade, making vanilla coffee in an open-air dining room. The tablecloth is a floral print, there are flowers in a vase and she is wearing a floral, green missionary dress. Jeannine and Felix have been creating this garden since 1978 and have been growing vanilla commercially since 1980.
We snorkel in a marine reserve below the Virgin at Easo. This is a garden of a different kind with big brain corals, lacy fan corals and others like underwater trees providing a home for fantastical fish. Iridescent blue, rainbow-hued, tiger-stripped and elegant angels; fish go about their business ducking in and out of pink, purple and blue corals as I glide by. Seaweeds sway, anemones wave and giant clams, corrugated smiles open wide, show their purple and green innards. It's busy and beautiful down there.
Peng is a name on the map with a star saying beach so we take ourselves, and our little van, on an adventure. The road is a deeply potholed thread curling through a tunnel of verdant green jungle. Butterflies and dragonflies avoid the van as we bump along. Kingfishers are looking out for them and swallows swoop on smaller insects. Peng is paradise, too, with white sand, a scattering of exotic shells and glassy calm, pristine water.
The rustling of a gentle breeze in the palm trees is just audible above the sound of lazy waves barely turning. Its dream-like loveliness inspires Sam to stretch out, arms spread, and sleep. I walk and, like Robinson Crusoe, the only footprints in the sand are mine.
CHECKLIST
Lifou: Lifou is one of the Loyalty Islands, east of mainland New Caledonia. It's steeped in Kanak culture and has idyllic Pacific Island ambience.
Getting there: There are four flights per week from Auckland to Noumea, operated by Air New Zealand and Aircalin.
There are three flights a day from Noumea's domestic airport to Lifou. It takes half an hour. See air-caledonie.nc.
Getting around: Hire a car from Auto Pro Location. Email: autoprolocations@mls.nc
Where to stay:
Drehu Village Hotel has charming accommodation, great breakfasts
and is on a perfect beach. There are also numerous one- and two-star home-stay options. The tourist information centre is useful. Email: cemaid@cyberdidact.net
Further information: See loyalty-islands.com or newcaledonia.com.au.