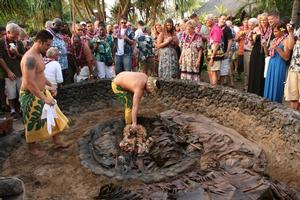 You want to try local food in Hawaii? Order a loco moco.
Sure, you can have pig cooked in an underground oven with a side order of poi (pulped taro root). Or you can enjoy the fabulous new Hawaiian regional cuisine developed by a group of young chefs.
But for me, loco moco was the real deal.
I had seen it on the menu described as "a local favourite" at several restaurants, usually for breakfast, but it wasn't until we got to the Hotel Molokai, on the island of the same name, that I worked up the courage to order one.
I asked the waitress if she thought I could handle a loco moco. "Sure," she answered with a smirk, looking at my paunch. "You'll have no problems."
The meal was huge. It was a pile of rice topped with a hamburger patty, covered in brown gravy and finished off with two fried eggs.
It's a dish said to have been developed 60 years ago at a restaurant in Hilo, on Hawaii's Big Island, as a cheap way of feeding hungry but hard-up local teenagers and it worked so well it spread across the islands.
It's certainly filling - I couldn't finish my order, proving that I'm no longer a teenager - but surprisingly tasty.
In fact, while I didn't have any great expectations for the food in Hawaii, most of what we ate during a week-long visit was outstanding.
We got to taste traditional cooking at the Old Lahaina Luau, on the island of Maui, where the feast on offer included a delicious pig roasted in an umu, poi, sweet potato and ahi poke, which turned out to be fresh raw yellowfin tuna chopped up with with a mild local onion.
There was plenty of good Asian food on the various islands, the highlight being the tiny Sombat's Fresh Thai Cuisine in Hilo on the Big Island. As you'd expect, there was great seafood available, especially at places like the marvellous Azure restaurant at the Royal Hawaiian Hotel in Waikiki and the equally excellent Lahaina Grill on the island of Maui.
But even more exciting was the Hawaiian regional cuisine, a style consciously created by 12 local chefs back in 1991, combining Asian, Pacific and European cooking influences with fresh local ingredients to create some truly sensational food.
One of those founding chefs was Alan Wong whose eponymous restaurant in Honolulu is one of the finest I've eaten at anywhere in the world.
A passionate foodie, he explains that the chefs got together because "we wanted to show that there was world-class cuisine in Hawaii because prior to that a lot of people thought that food in Hawaii was ham with a pineapple ring and a cherry stuck on it. Or people would say that the best food they had in Hawaii was the mahimahi with macadamia nuts that they had on the plane ride over."
They clearly succeeded because no one offered us ham with a pineapple ring and, while the food on our Air New Zealand flight was very good, it couldn't compare with the meal at Wong's restaurant.
From the appetiser of chilled tomato soup with a grilled mozzarella cheese, foie gras and kahlua pig sandwich, to the Kealaola Farm's green gecko coffee we selected from the amazing coffee menu, it was simply superb.
For me, the finest dish of all was a chopped ahi (a local fish) sashimi and salsa stack on crispy wontons with spicy aoli and wasabi soy. The mix of flavours and textures was incredible and even my long-suffering wife got tired of all the "mmmms" and "ahhhhhs" as I savoured every mouthful.
It was also a good example of the regional cuisine, according to Wong, "because it was influenced by several different cultures. The wonton comes from Chinese cooking. The avocado salsa is of Mexican influence. The sashimi is a Japanese way of eating raw fish using the Hawaiian presentation of chopped fish. The sambal aioli is a traditional French condiment that incorporates the southeast Asian chilli sauce".
Most important, of course, is the fact that it tastes fabulous.
Getting there: Air New Zealand flies direct to Honolulu up to three times a week. Long-term airfares in Pacific Economy class are available from $1500 a person return plus airport and government costs.
Where to stay: The Royal Hawaiian Hotel, known as the pink palace, is the second-oldest hotel in Waikiki and sits right on the beach.
Where to eat: You can find out about Alan Wong's restaurant in Honolulu at alanwongs.com
Azure is the restaurant at the Royal Hawaiian. See royal-hawaiian.com
Hotel Molokai is the only hotel on the island of Molokai. See
hotelmolokai.com
Lahaina Grill is in the heart of Lahaina town on Maui. See
lahainagrill.com
The Old Lahaina Luau is on the outskirts of Lahaina. See
oldlahainaluau.com
Further information: For general information about visiting
Hawaii see gohawaii.com/nz
Jim Eagles visited Hawaii as guest of Air New Zealand and Hawaii Tourism Oceania.