Tiny Pitcairn Island embarks on a venture to attract tourists to its remote shores.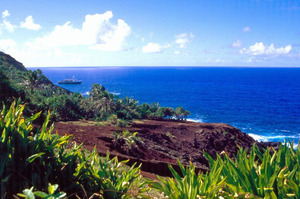 A New Zealand shipping company is helping remote Pitcairn Island open up to the outside world, after more than two centuries of shunning contact.
To mark today's 220th anniversary of the famed mutiny on the Bounty that led to its becoming a hiding place from the world, Pitcairn is inviting the world to its shores.
In 1789, mutineers seized the British ship Bounty, set Captain William Bligh and some of his crew adrift and sailed away, eventually arriving on Pitcairn.
The island now has 60 inhabitants, 51 of whom are descendants of the mutineers.
Halfway between New Zealand and Chile, it has 4.6sq km of land, no airport, one cafe and no hotels or motels.
Promoting itself as a "get-away-from-it-all" holiday spot where visitors will be put up in homestays, the island is gearing up to accommodate tourists when a regular passenger-freight service starts in September.
Stoney Creek Shipping Company is offering a service that will involve the once-a-week Air Tahiti flight from Papeete, Tahiti, to Mangareva in French Polynesia, then a two-day, 480km boat trip to Pitcairn.
In the past, only one ship every several months has regularly travelled from Mangareva to Pitcairn.
The island is promoting eco-walks and a museum loaded with artefacts, relics from HMS Bounty, and historical records.
Visitors to Pitcairn need a visa, and a licence to import or drink alcohol.
The island has internet and telephone services and there are plans for windpower to provide electricity 24 hours a day.
Pitcairn hit the headlines five years ago when eight men from the British-controlled territory were convicted of raping and sexually assaulting young girls. A ninth man pleaded guilty.
- NZPA