American Samoa dresses itself up for Catherine Masters.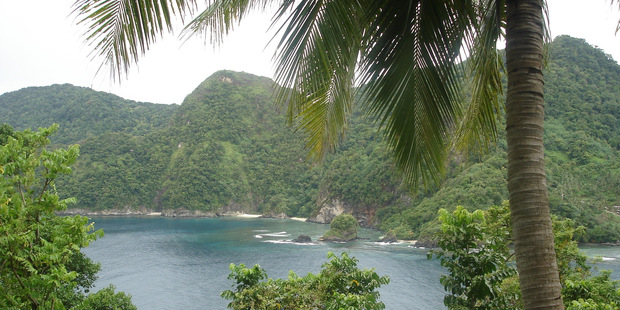 It's 8am. I feel like shouting "land ahoy!"
Outside my cabin window is a beautiful, lush tropical island.
The sea has changed from deep ocean blue to emerald green.
It's our first sighting of land for days and it's exciting.
Everyone has a spring in their step and soon many of the ship's 2000 passengers will empty out into Pago Pago, capital of American Samoa, and for not quite a day this laidback island will hum with roaming cruise ship passengers.
It's hot. First my little group quickly explore the tiny town centre then board a random bus with open windows for a 50 cent ride to anywhere.
We get off at a drop dead gorgeous beach and head into the crystal clear water, then madly hang on to razor sharp coral to try to stay still in the seriously strong current - we should have heeded the warnings.
We wander about until our organised tour to a "remote village" begins. A fleet of those little buses take several hundred passengers to Vili Loto Paraia. It's an invasion.
On our bus is Rasela, our guide. She stands at the front of the bus and shouts.
"We have one college here in American Samoa," she yells at us. After that, you have to go overseas for higher education.
There's only one road, she tells us next, so don't worry, you won't get lost.
Oh, and there's one hospital. And one airport. There's one KFC, one McDonald's and one Pizza (I think she means Pizza Hut).
Rasela tells us the guest protocol for visiting the village. You should wear a lava lava and white shirt. None of us are but she says not to worry.
Oh, and if you see a man wearing a flower behind his ear, that is a "half-man". There are a lot of half-men in Samoa, Rasela says.
Then she tells us there is only one shopping centre and one cinema.
And there's one prison where they put people who don't respect the rules. We pass the one prison and some of the prisoners wave.
Rasela points out a park which is called Lions Park, but says there aren't any lions. There aren't any crocodiles in American Samoa either and no snakes. But there are spiders.
We pass American Samoa's one stadium. We know there's only one stadium because Rasela happened to mention this.
She's a delight. Along the way we have passed many churches. There are "a lot" of churches in American Samoa, she says.
We pass the one golf course and pretty soon we are at the remote village. A fleet of little buses just like ours are already parked and a couple of hundred people are already queueing.
The villagers have put on demonstrations for us. There's a woman with long black hair washing clothes in the open air under a high tap, there are several open sided huts where you watch weaving or taste cocoa beans or see how food is prepared.
The villagers all wear white shirts and lava lavas and name badges. The passengers eat food off a woven plate covered with a banana leaf.
This is one of the most artificial remote villages I have ever been to but the villagers are incredibly lovely and patient.
After about an hour and a half and some song and dance, we pile back on the buses.
Then the invasion leaves. I can't help hoping the village is extremely well paid for putting up with this.
I'm also left wondering what village life is really like.
By 6pm the ship is on its way and Pago Pago returns to normal.
CHECKLIST
Getting there: Pago Pago is on the main island of Tutuila and three airlines — Inter Island Airways, Polynesian Airlines and South Pacific Express — operate daily services between Pago Pago International Airport and Apia.
Accommodation: See samoa.pacific-resorts.com
Further information: The country is warm and humid and rainy the year round, with a long, wet summer season from October to May.
Catherine Masters visited Pago Pago on a stopover during the cruise liner Queen Victoria's world cruise.