A serene and magical beauty beckons the tourist to isolated Norfolk Island. The Pacific's quiet gem has much to offer those in the know, writes Tamara McLean.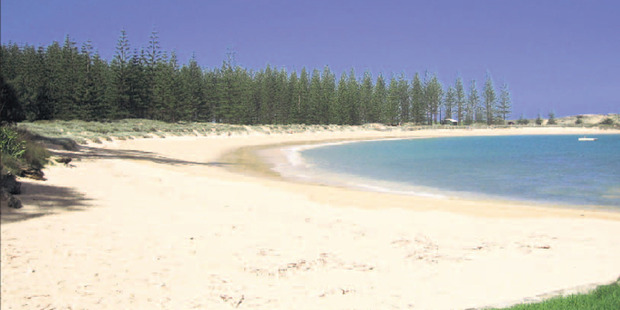 There is scarcely anything more magical than a beautiful beach all to yourself on a hot, sunny day.
Even better is when the nearest hordes are hundreds of kilometres from where you lie on Emily Bay, the jewel in the crown of picturesque Norfolk Island.
This idyllic island is rarely thought of as a beach holiday destination, probably because of its location in the Pacific Ocean more than 1000km from both Australia and New Zealand, with no close neighbours. That's just what makes it so ideal - you may have the beach almost all to yourself.
Norfolk has many faithful tourists, mostly from the older set, who quietly return again and again to peruse the 8km by 5km national park, sprawling fields and rugged coastline.
But this tiny isle, home to many descendants of the Bounty mutineers, has something much more to offer by way of raw and natural exploration that few younger tourists seem to have discovered.
Great food, laidback locals, wild beauty, ancient allure and the novelty of yesteryear all contribute.
Fresh from the plane, hire a bike in the island's single-street township of Burnt Pine and whiz down to the historic precinct of Kingston on the southern side for a swim at Emily Bay.
With the subtropical climate, it's possible to swim for at least half the year and the crystal clear waters are worth exploring with a snorkel.
Beyond the namesake pines that surround the beach sits the rest of the heritage-listed area: imposing sandstone administration buildings, incongruously placed Georgian homes and a spooky seaside cemetery - all remnants of the island's past as a penal colony. Still standing are a salt house, lime kiln, a deadly crankmill - where convicts were forced to turn gigantic grindstones - and roadside baths, where weary officers washed their tired feet.
The rest of the island is relatively free from historic reminders but richer still in a wild beauty reminiscent of New Zealand's unkempt landscapes.
One of the best walks to take in Norfolk's stunning scenery is the bridle track, which hugs the cliffs along the northern edge.
The path overlooks clusters of rocky outcrops which are home to gannet colonies and can be circumnavigated by those willing to test out their kayaking skills with the help of an experienced guide.
Peace and quiet is obviously well within reach on an island with just 1800 residents but nowhere is that truer than on this track squeezed between rainforest and ocean.
Walkers end up at a picnic-friendly knoll that's home to a monument to Captain Cook.
NEED TO KNOW
Norfolk Island is a self-governing territory of Australia. The currency is the Australian dollar but Norfolk Islanders do not pay Australian taxes which means the island has become something of a low-tax shopping destination for Australians and New Zealanders.
All visitors to Norfolk Island must have pre-booked accommodation or being staying with friends.
Air NZ currently flies from Auckland twice a week, on Thursdays and Sundays. The flight takes 90-minutes to two hours.
Further information: See norfolkisland.nf.
The writer was a guest of Norfolk Island Tourism and Shearwater Scenic Villas.
- AAP