Western wags often make fun of wigs, but Jim Eagles finds that in Papua New Guinea it's a very serious business.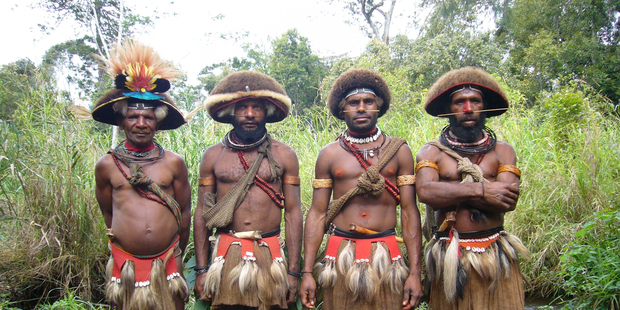 When I was invited to visit a wigman in the Highlands of Papua New Guinea I first thought it was a cunning - if unkind - sales technique. After all, a (relatively) rich foreigner with a shiny bald pate would seem a pretty good mark for a guy who makes wigs.
But, no, the wigmen of the Huli people aren't like Western toupee manufacturers. They are wizards who only work with people who have fine heads of hair.
Someone as follicly challenged as I am is no use to them.
What a traditional wigman does is use ancient magic to make hair grow faster than normal so it can be cut off and turned into a wig. Evidently, magic - like hair restorer - doesn't work if the hair is long gone.
This singular way of making hairpieces is found in the Tari Valley, 2000m up in the Highlands of PNG, an area just starting to make the transition from the old ways of centuries past to the new ideas which have begun to flow from the outside world.
In Ambua Lodge, where I stayed, the new ways dominate, with Western-style food, clothes, furniture, running water and even electricity.
But in the surrounding villages people still live much as they always have, although most wear Western clothes most of the time and just about everyone carries a metal bush knife.
When I explored the villages and roadside markets around the lodge, most of the men I met were wearing caps, but a good number still went about their daily business dressed in the traditional wigs.
In fact many had not one but two wigs - a plain day wig shaped like an upturned bowl, and an ornate ceremonial wig decorated with bird feathers - possession of which, like ownership of many pigs or having more than one wife, is a sign of wealth and status.
As a result the wigmen are still much in demand. And, this being a place where magic is taken very seriously, they are deeply respected. The sign welcoming visitors to Tari Airport highlights the fact that the area is "Home to the Huli wigman."
The particular wigman that Ambua Lodge arranged for me to see was Kevin, a sprightly old chap with a twinkling eye, dressed in traditional costume and wearing a magnificent example of the wigmaker's art - a red wig glowing with feathers from cassowary, parrot and various species of bird of paradise.
We met in in a clearing on the banks of a stream, on the outskirts of the village of Poroiba Nakau, where Kevin works his magic with a group of selected assistants and students.
Speaking through an interpreter - my Huli guide, Benson - Kevin was at pains to explain that what I was about to see was a traditional ceremony.
"We are doing this for you," he said, "but this is what we always do. This is not a tourist performance. This is how I do my magic."
A wigman like Kevin has several students who stay with him for a couple of years, live in the village men's house - in Huli society men and women live separately - and do his bidding.
In return, his magic makes their tresses grow fast enough to produce enough hair for the wigman's assistants to weave into a wig.
Some students wait only long enough to get their own wig. But many remain with the wigman until they have produced enough hair for a spare wig or two. These they can sell - for about $150 to $200 apiece - to get sufficient money to set themselves up and possibly even to buy enough pigs to get a wife.
I guess I could have bought a nice wig from one of the students and covered up my poor old head - which was suffering from sunburn and insect bites at the time - but to be honest I really didn't fancy the idea.
One of the students was keen to show off his flywhisk, made from cassowary bone with a pig's tail attached, with a roll of notes tucked unobtrusively into the marrow.
"That is his secret purse," explained Benson. "It is good for when you have a wife so she doesn't know how much money you have."
Another was particularly proud of his kilt of pig tails. "This is an advertisement for young women," said Benson. "It shows how many pigs you have killed, how rich you are, so they want to marry you."
This was fascinating but I couldn't help wondering aloud how a wigmaker was able to make hair grow faster.
The question was the signal for Kevin to lead three of his students - two wearing wigs, the third with hair almost long enough to be harvested - into the stream and demonstrate.
Once in the stream he produced three lengths of bamboo, filled them from the torrent flowing past his ankles, and sang a complex chant designed to put magic into the water.
Then he passed the bamboo flasks to his students. Each took a mouthful of water and blew it into the air in a fine spray. Then they drank the rest.
Next, Kevin drew three leafy sprigs from his waistband and - chanting once more - dabbled them in the stream.
Again he passed them to the students, who dabbled the leaves in the stream and gently dripped the water on their heads.
After a further chant they climbed back on the bank. The ceremony was over. The students' hair was now growing.
The magic to achieve this, Kevin explained, was something he had learned from his father and - when the time was right - he would in turn choose someone to pass it on to.
Explaining how it worked was not easy, especially through an interpreter, but I gather the magic in the water acts on the hair rather as fertiliser might act on plants, promoting faster growth.
It also has the effect of making the usual dark hair of the locals turn a lighter brown, which is more desirable for wigs.
In another clearing nearby, two of Kevin's assistants - in ceremonial wigs nearly as impressive as his - were making wigs.
They seemed to twist the strands of hair together with their fingers while pushing it into the inverted bowl shape with the aid of a stake in the ground.
The younger of the two was putting the finishing touches to a day wig, which he strengthened by weaving red string through the edges of the hair.
The older man was making a ceremonial wig which, he explained, required twice as much hair as a day wig. While I watched he was busy giving it the required reddish colour with the aid of a mix of pig's fat and red clay.
Meanwhile, Kevin was subtly exploring the possibilities opened up by my being a journalist. Did I find his wig magic interesting? For sure. Would other people in my country find it interesting? Definitely.
In that case, he suggested, wouldn't it be a good idea if our Government hired a plane to take him and his team to our country so everyone could see the magic? That would be much cheaper than all of us flying over individually to PNG.
It was a good idea, I agreed, but unfortunately I doubted our Government would be willing to do that. Still, I promised I would pass the suggestion on, which I am now doing.
I also promised Kevin that I would tell people in my country that a visit to the Huli wigmen is an experience not to be missed. Which it is. Even if their magic doesn't work on bald guys.
CHECKLIST
Getting there: Air New Zealand is the only airline offering non-stop flights from Auckland to Cairns (four times a week). Air New Zealand also offers several non-stop flights a day from Auckland, Wellington and Christchurch to Brisbane.
Air Niugini has daily flights from Brisbane and Cairns to Port Moresby. Until the end of May one way fares start at $250 from Cairns and $472 from Brisbane. Air Niugini also has regular flights from Port Moresby to Highland towns like Tari and Mt Hagen.
Where to stay: Ambua Lodge is run by Trans Niugini Tours which also operates an air service from Mt Hagen to the lodge's private air strip. The lodge is able to organise visits to the Huli wigmen.
Jim Eagles visited Tari as guest of Air New Zealand, Air Niugini and the Tourism Promotion Authority of Papua New Guinea.