David Arrowsmith decides to pop over to American Samoa — with cultural visions of Somerset Maugham, US naval bases and historic buildings dancing in his head.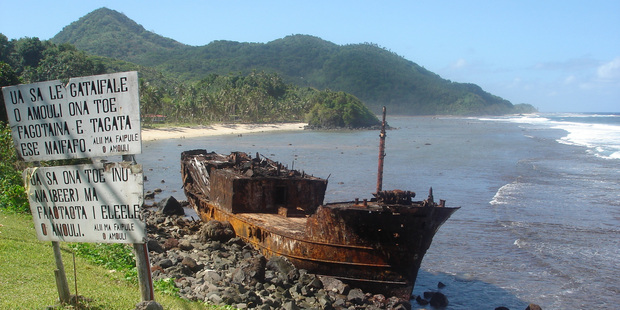 As we walked towards the 15-seater turbo-prop plane at Faleolo Airport, I swore the tyres looked deflated. I playfully kicked one, to the mirth of an obese passenger in his lava lava, who nodded and laughed.
The pilot allayed my anxiety as we lumbered up the runway, and assured us we would have a safe flight. We did.
Forty minutes later we landed in the rain in the other Samoa, and I realised why Somerset Maugham named his famous story about the island, Rain.
Standing by the luggage conveyer, I waited for my green suitcase. No sign.
Worried, I entered the airport foyer and saw a large banner welcoming participants to a Catholic Diocesan Pastoral Conference. I must have looked like a priest because a small nun approached, decked me in a lei, and said, "Walcum to American Samoa".
I didn't tell her I was a lapsed Methodist, but, spiritually buoyed by this nod from Rome, I thanked her and marched off through a dilapidated terminal, to find the office of Polynesian Airlines.
"Where's your luggage tag?" demanded the unconcerned woman behind the counter with a flower in her hair.
"Not given one," I protested, feeling foolish.
"Can't help you without a luggage tag," she replied. Didn't I know, she added, that for safety reasons luggage had to be off-loaded when the passenger weight limit was exceeded?
So that was why we had to jump on the scales when checking in.
"Come back in a few hours. Your baggage should be on the next plane from Apia."
Over at the rental car agency, I hired a vehicle for a day, asking the man, "How far to Pago Pago?"
"Seven miles," he answered, starting the engine for me, and I immediately knew I was on American territory.
In the pouring rain, I drove out of the airport carpark, following the steam of traffic, and in the absence of street signs deduced that all roads must lead to Pago Pago.
Part of learning the fa'a Samoa is getting the sense of where places are without reference to western encumbrances like street names and road signs.
With only one road around the lush, mountainous island of Tutuila, there was a 50/50 chance I was heading in the right direction.
After checking into my motel, showered, shaved, and snoozed and already tiring of that "Yah walcum" response from locals, I headed down to my rental car with the intention of driving back to the airport to pick up my bag.
The car wouldn't start. I ran up the motel steps to reception, and asked them to make a call to the rental company. No reply. Beginning to stress out at the thought of spending the next 24 hours in the clothes I was standing in, I spied a tousled youth, fag in hand, engrossed in American baseball on the TV.
Seeing my plight, he called out in a Texas drawl, "Stick or auto?"
"I beg your pardon?" I replied, taken aback by the suggestiveness of the question."
"The gear change — is it stick or auto?"
"Oh, stick," I said, anxious to appear competent in such matters. "Ever driven stick before?" he asked as we approached my vehicle.
I assured him I drove stick all the time in New Zealand.
He jumped into my rental car; it started. What had he done? Depressed the clutch while he turned on the ignition. Something my stick cars in New Zealand had never required.
Back on the road from Pago Pago to the airport around the coast I got lost. How could that be possible when there was only one road? Clearly, a matter of cultural sensitivity again. In the absence of road signs, failing to discern instinctively which left turn was the one to the airport, I ended up outside an American military base.
"Which way to the airport?" I asked the guard on duty at the gate.
"That way," he pointed.
"No turns?"
"No turns," he repeated, his look questioning my IQ.
Having retrieved my bag from an unapologetic Polynesian Airlines, I celebrated with a cappuccino, and returned to my rental car only to find an American Samoan cop standing by it, arms folded.
"Can I see your licence, sir? How long you been in this country? You own this car? Where you staying? Can't you read the sign? Open your trunk please."
My crime had been to park for 15 minutes in the two-minute drop-off zone. Beginning to feel like a terrorist suspect, I detected he meant business, and dropped my jaunty demeanour.
Would I end up in the Federal Correction Centre I had driven past? Fortunately, I escaped with a warning after promising to use the carpark next time. Clearly a cop with a mission.
It was still raining, so I drove back towards Pago Pago, looking for telltale landmarks so I wouldn't miss the airport turning the next day.
Armed with a map, I looked out for the Tourist Bureau, so I could get a walking guide of historic places I'd seen advertised on the American Samoan Historic Preservation Trust website back home.
I stopped outside a ramshackle, deserted building next to the Yacht Club. Surely not the Tourist Bureau? No, but it had been.
"Oh, they're now near the airport; moved last year," a local informed me. I gave up. Time to go back to my motel.
Later that evening, I entered the motel's restaurant, ordered a Vailima at the bar, and soon struck up conversation with another cop. Only this one was out of uniform, and friendly, so much so that over the next few hours, I learned more about the territory than any Lonely Planet guide would ever tell me.
Did I realise, for example, why police in the territory were no longer armed? Answer: because they got into squabbles with each other and drew their guns. After singing the Beatles song Hey Jude on karaoke with my new friend, and meeting his family, I began to gag on the tobacco smoke, and saw the sense in the New Zealand legislation. Time for bed.
Next day, it was raining, of course, and I decided I'd enjoy the territory's historic places walk and national park on my next visit.
Tonga called. I needed to get back to Independent Samoa to connect with the evening flight to Nuku'alofa, the next stage of my Pacific odyssey.
I caught an earlier flight back to Apia. Things were going well. This time I had a luggage tag.
Silly me. Yes, I was back at Faleolo Airport, asking for my luggage at the Polynesian Airlines counter.
"Where's my luggage?" I demanded, waving my tag. The woman shrugged and I wondered whether it was on the plane to Vava'u that left American Samoa just before mine.
"When does the next plane from Pago arrive?" She shrugged. It got worse, because I enquired about my 7pm flight to Tonga, and learned it left at 3.30 that morning.
My fault. I hadn't reconfirmed the booking. They could get me on a flight to Tonga in four days' time, but I'd have to pay the balance on a new ticket.
In desperation, I tried to call my friends in Tonga from an airport public phone. An American operator fielded my call. "To where?"
"Tonga." "Tokyo?" "No, Tonga, in the South Pacific." She'd never heard of the place.
With no luggage, nowhere to stay for my extra days in Samoa, and out of contact with Tonga, I reached for my water bottle. Much needed, because in the topics you have to be prepared, and keep the fluid level up. And I'm not talking about the tropical jungle, but the airport, because with no international flight in sight, no cafe was open.
After six hours, a Polynesian Airline employee approached with my bag on a trolley — full of apologies. At least they got it right in the end.
I took a taxi to Apia, checked in to a hotel, rang Tonga, and watched Judy Bailey on TV One's news. Apia suddenly felt close to home.
David Arrowsmith paid his own way to American Samoa.