John Key has been in Vanuatu for the 41st Pacific Islands Forum. The Herald's Derek Cheng filed from Port Vila.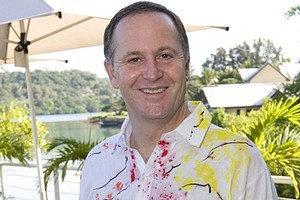 Friday
11am
Back at the PM's hotel, which is only hotel in the country, it seems, that has a mildly reliable internet connection. Internet has been a royal pain the whole trip. TV3 couldn't send their story on the first night. Their reporters just stared at the computer screen watching the file being sent home as the clock ticked on past the 6pm news bulletin. Some of the radio reporters have almost slashed their wrists at being unable to send stories.
But some have finished for the trip and have headed into town to browse something local, after working flat out from the moment of touchdown. We didn't even see our hotel at all, and could only glance at it - the golf course, the pool bar, the sandy beach on the waterfront - as we raced from the breakfast table to the morning's first media conference.
Vanuatu is a beautiful collection of islands. Port Vila has crazy traffic that completely contrasts to the lazy stroll of pedestrians in vibrant floral dresses and sandals.
There are flash resorts and sandy beaches, but the real heart of the country is in the subsistence villages, where the roads are holey and the thatch houses sway in the breeze next to drying taro and dancing laundry on the line.
I would go out and see more, but if you'll excuse me, I have several stories to finish before we jump on the plane home in 90 minutes ...
8.30am
Key joins Vanuatu Prime Minister Edward Natapei at a site where NZ Aid will build a new passport building, so Vanuatu citizens can have modern passports, rather than handwritten pieces of paper.
The local Minister of Internal Affairs tells the audience that there are a lot of "crazies" out there crossing borders, and having a piece of paper for a passport doesn't lend itself to much credibility, particularly at the US border. Key is more diplomatic and says the modern world is "complex".
Key and Natapei then grab shovels and dig a small hole. It's a ground-breaking ceremony, you see, and this act literally breaks a hole in the ground.
Key then heads off to a local school where he's given a wooden pig, a symbol of prosperity, and waves at the local kids while two guys mow a neighbouring sports field lawn with what looks like lawn-mowers from ancient Greece. They may as well be using rusty scissors.
7.40am
Key thinks the forum was a success, he says, even though a lot of the talk was just along the same themes of last year. The communique, released last night, is 81 paragraphs of mostly meaningless official-speak, such as:
"Leaders recognised the importance of effective coordination and implementation of climate change adaptation and mitigation efforts at all levels, and particularly at the national level."
The document is littered with words such as "reaffirm" and "urgent need" and "intensify efforts" and "continuing deep concern", implying that they did lots of nodding of heads and patting on backs for maintaining the status quo and recognising the obvious: climate change might be bad for the Pacific; fisheries could be used better and be good for the Pacific; spending air money better is a good thing.
The paragraphs about Fiji don't even mention the word "suspension".
And there are moments of hilarity:
"Leaders undertook to consider submitting a letter to the US Government [about radioactive material in the Marshall Islands]" - meaning someone thought it might be a good idea to write a strongly-worded paragraph, but they didn't agree to actually do it.
"Leaders encouraged Forum Members to lend support to the Marshall Islands" - i.e., they told themselves that the idea - not the act of actually doing it - of helping a neighbour might have merit. Genius.
Leaders spent a lot of time at the start of the forum talking about the Pacific Way - unity, partnership. Perhaps this inept document says more about the Pacific Way than a well rehearsed speech ever could.
Thursday
6.30pm
The leaders roll in. Three hours late. Key says there was no particular reason, just "island time".
He is still wearing his ridiculous ug-shirt, but has filled it out slightly more because of a two-hour "island time" lunch break.
He basically says the forum has re-iterated all its previous points - a commitment to climate change, to improving the use of fisheries, to continue the suspension of Fiji.
Lots of the status quo, it seems. But I'll have to peruse the communique more closely tomorrow. I can't think of anything more riveting.
6.00pm
The forum leaders are now two-and-a-half hours late for their press conference. Apparently they are going through the communique line by line at a painstakingly slow pace, but reporters prefer to concoct a more comical scene in which they are all frolicking on the private beach in their ug-shirts, sipping cocktails and watching exotic dancers.
Speculation continues about whether New Zealand will host next year's forum in the lead-up to the Rugby World Cup. If so, what silly shirt should we, as a nation, gift to every forum leader? An All Blacks shirt? John Key's speedoes?
4.15pm
We are 45 minutes late for the leaders' press conference. Island time, it seems, has taken full effect.
12.30pm
While leaders enjoy their talkfest in luxury, some media - others who shall remain nameless went for a swim - are taken out to an NZAid funded venture. The Wan Smolbag Theatre Company will receive $6.6 million from 2010 to 2014. It's name is a remnant of a time when the drama group was so small, they just carried all their props and costumes in a single, small bag.
It started in 1989 and now has over 100 staff and 400 volunteers. As well as a theatre group, it films a soap-opera called Love Patrol, now in its third season - the first season screened on Maori TV - which often has domestic violence and sexually transmitted infections as themes. There is a family planning clinic that is free and sees 400 people a month, as well as a youth centre and a kitchen where cooking classes are held.
We then head out to Mele Village, where some villagers use the Recognised Seasonal Employer scheme to spend summers working on New Zealand orchards or vineyards. Alex George is one such person. He wears Oakley sunglasses.
The village is the real Vanuatu, hidden away from all the luxury resorts and and tourist beaches. Tourism is an important lifeline for the economy, but its benefits don't often trickle down to the subsistence farms. Most of the country's citizens live on such farms and villages, and programmes like the RSE is one way to reach them.
10am
The leaders arrive at the luxurious Havannah Resort on the other side of the island for the leaders' retreat. It is an isolated area with a small, private pristine beach. The leaders arrive and are handed a drink in a coconut, and they then assemble on the beach where the glare of the sun has Key squinting as if he were caught in the headlights.
The shirts are all slightly different in design. Some leaders are purpled, others are oranged. The shirts are designs of Russian artist Nicolai Michoutouchkine, who lived in Vanuatu for 30 years and died earlier this year.
After the photo shoot, media are then ordered away so that the leaders can talk freely about aid money, climate change, the effects of the global recession, and Fiji.
And, no doubt, their shirts.
8am
Key arrives for his morning press conference clad in his forum shirt, a glorious white number that looks like it got into a brawl with cans of yellow, red and orange paint.
The Prime Minister describes it as a nasty paintball shirt, stained with streaks of colour.
Key is insulted when asked if the ug-shirt is the forum shirt, or his own.
Will he wear it again?
"It will be a wonderful contribution to the parliamentary collection "
Does he support the annual forum ritual of embarrassment by ug-shirt?
"Absolutely "
Wednesday
6pm
TV reporters sit and watch their massive files being sent over a shoddy internet connection. Print journos frantically file stories for tomorrow's paper.
One reporter files to update his online diary that he knows at least two people are reading; one reporter told him she had read it, and another went to read it after the author told her to.
4pm
John Key takes a break from answering tough questions about climate change, Fiji and economic development when he is asked if he intends to have a swim in his speedoes at the resort he is staying.
"I don't have speedoes. I ditched those when I was about 14. I'm not going in a man-kini and I'm not going naked.
"I have board shorts. Green and white. Slightly above the knee from memory."
11.20am
The drowsiness brought on by the heat and humidity and the unrelenting sunshine is burst by six groups of cultural dancers, representing the six provinces of Vanuatu. They dance together spread across a grassy stage, clad in traditional costumes that include elaborate head-gear and bare torsos, and their voices rise in a rushing crescendo, matched by their side-to-side dance shuffles that erupt to full on war-cries.
All forum leaders are now definitely wide awake.
10am
Key is last forum leader to take the stage, just after 10am. The delegates bow their heads for prayer for the Pacific region, and then hear from Tuiloma Neroni Slade, the secretary general of the Pacific Islands Forum Secretariat. The legacy of the forum, he says, is unity, "not of a few, but of all forum countries".
"There can't be any other way. That is the real meaning of the Pacific Way," Slade says.
Australian Foreign Minister Stephen Smith seems to have a subtle dig at Fiji during his address. In mentioning the elections in the Solomon Islands today, he says: "We wish our friends in the Solomon Islands well as they vote today, a right that every Pacific citizen should have, and be able to exercise fully, freely and in a timely manner."
Smith then passes responsibility for chair of the forum to Vanuatu Prime Minister Edward Natapei, who was the only one to mention Fiji by name.
"The Biketawa Delcaration, now in its 10th year, provides the guiding principles for good governance, democracy and respect for the rule of law and human rights. However, in respect of these values, it is of concern that a founding member of the forum - the Republic of Fiji Islands - remains suspended because of its breaches of these fundamental principles. As leaders of Pacific Island nations, we have the duty and responsibility to remain engaged with Fiji so that democratic principles and practices could be restored in Fiji as soon as possible."
9.40am
Schools out for the day, it seems The roads to Independence Park,for the forum's opening ceremony, are lined with flag-waving school children.
The crowd is also full of bright floral dresses, colourful shirts and broad smiles.
Australian Foreign Minister Stephen Smith arrives to the odd sounds of local RnB playing over the sound system .
I guess we'll find out in the coming days.
9am
Key meets with Vanuatu PM Edward Natapei.
They discuss, among other things, the 2500 seasonal workers that come to NZ from Vanuatu each year to work in orchards and vineyards.
6.50am
A sombre mood as Key delivers the news of the first NZ soldier to die in Afghanistan.
The news makes trivial the early morning room service complaints from visiting journalists; one had a breakfast of unripe fruit, another a plate of nothing but bacon, a third a stunning spread but for about $50.
Tuesday
9pm
While the leaders are being dined and hosted by Vanuatu Prime Minister Edward Natapei, other ministers and delegates have a function at the Palms.
McCully's blue Hawaiian shirt moves seamlessly among the crowd.
Organic Vanuatu beef, which I'm told is farmed by New Zealand farmers, is among the food on offer.
The Vanuatu Foreign Minister, Joe Natuman, tries to welcome the crowd, but his equipment is as reliable as the Auckland weather, and he spends most of the time in a quiet conversation with the silent microphone.
A group of traditional dancers entertain.
They wear leafy head-gear as camouflage, and stamp their feet noisily while crying out.
Someone points out that this seems like a contradictory approach to hunting - trying to conceal themselves as much as possible, while simultaneously making their presence known in the loudest possible way.
Kava, a traditional island drink that comes from a plant of the pepper family, is also there in abundance.
It looks like muddy water and its taste takes you to place somewhere between a swamp and the Manawatu River.
It numbs your tongue, mouth and senses and sets you floating.
There is some speculation about the events around the forum - Why did Papua New Guinea Prime Minister Sir Michael Somare decide not to come.
Did he just throw his toys? Is he resigning? Was it a gesture in support of Fiji and in retaliation for the cancellation of the Melanesian Spearhead Group meeting earlier this year? Others speculate on the forum itself.
How effective will it be, in the absence of so many leaders? Is it just a talkfest?
8 pm
Foreign Minister Murry McCully moves quickly into island mode.
He arrives at the Palms Hotel clad in a short-sleeved, dark blue tropical shirt adorned with white flowers. When asked by reporters, he says, "It's something I picked up in my travels, and that's all I'll say on the matter."
He then turns to the more serious topic of the Pacific Islands Forum, saying he doesn't think the absence of key leaders from Australia, the Solomon Islands, Papua New Guinea and Tuvalu will make the forum insignificant, but it will probably mean leaders will be more cautious about changing its position in a radical way.
Fisheries and climate change will be major topics, he adds.
6 pm

Land in Vanuatu with expectations of a great ceremony, some ceremonial kava and traditional dancing.
But nothing greets Prime Minister John Key except for a couple of NZ High Commission staff members in florescent yellow vests.
We pass through customs and go to retrieve a rental vehicle, but the office is closed and, judging by the lack of vibrancy in the office, may never open again.