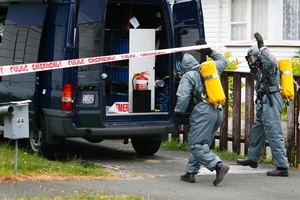 Thousands of Kiwis could be at risk of getting sick from methamphetamine manufacture in their own homes, without even knowing it.
There could be up to 2000 P labs operating across New Zealand each year in rented houses and those that go on to be sold, experts say.
And it appears many people have no idea that dangerous chemicals have been brewed in the homes they have bought or are renting.
But some home owners, and sellers, are refusing to disclose if a P lab has been on the property, meaning prospective tenants and buyers could be living in homes that are dangerous to their health.
Police find 200 homes a year on average where P is being made. There are protocols in place to alert local body councils, which can compile that information. But there is no legal obligation to do so.
Local Government New Zealand spokeswoman Fiona Mayo said the organisation was comfortable with the protocols in place.
But a property law expert, Associate Professor Bill Hodge of the University of Auckland, said more formal guidelines may have to be considered.
However, if a real estate agent selling or renting out a property is aware of any issues involving the property they must disclose this under the Real Estate Agents Act 2008.
Miles Stratford, director of Methminder, a company that monitors properties for byproducts of P production, said if councils were aware a property had been used as a P lab, it should be listed on a Land Information Memorandom (Lim) report.
That would be a potential deterrent to any home buyer, or a bargaining chip in price negotiations.
The cost of testing and decontaminating a former P lab can range from a few thousand dollars to as much as $50,000.
Dangerous chemicals used in the manufacture of P penetrate soft furnishings, walls, paint, floors and even metal surfaces.
Under the Residential Tenancies Act, failing to alert a new tenant to these potential problems is punishable by a $3000 fine.
"So what would you do? Suffer huge financial losses or cover it up and take a chance? I feel quite sorry for landlords, but at the end of the day by not reporting it they're complicit in the manufacture of this stuff," said Stratford.
The Herald on Sunday approached occupants of known former P labs to ask whether the previous owners or landlords had told them about the property's past.
One man who bought his North Shore townhouse had no idea his home had been used as a P lab. "No one told me," he said. "I think people should be told."
In 2004, police executed a search warrant at the address and found large amounts of methamphetamine precursor materials and equipment for manufacturing P. The Lim report did not indicate it had been a P lab, the man said.
A Papakura man who bought a house that was once a P lab said the real estate agent never told him of the site's history.
Symptoms of poisoning from contamination can include nausea, rash, coughing, headaches, burning and watery eyes, dizziness, fatigue and tremors.
An Auckland woman said she had suffered chronic fatigue symptoms for months but doctors could not work out what was wrong. She suspected she may have been poisoned when police raided her neighbours' home and discovered they had been disposing of waste chemicals from P manufacture down the drain system.
THE NUMBERS
* $50,000: The highest cost of cleaning a P house.
* 2,000: The number of P labs operating in NZ each year.
* 200: The number of P labs police bust each year.

Click here to email Leigh van der Stoep