Fifteen minutes of fame
1.
"I was riding my bike home from school one day and I guess someone from the local paper took a picture of me. I ended up being on the front page of my local newspaper a few days later. The cover story was something about the kids in my town not wearing their helmets and the dangers of it."
2. "I'm the squire that turns the lever of the lions head releasing the dwarves at Geoffrey's Wedding in season 4 episode 2 of Game of Thrones."
3. "I featured in the party scene in the film Scarfies. I was not drinking beer nor was I inhaling on that cigarette."
4. "I appeared in the Cookie Bear Club (Dum-de-doo!) birthday postcards sent out to members on their birthdays ... At its peak the club had 180,000 members (one in four New Zealand children under the age of 12)."
5. "I was on a short-lived gameshow on TV2 called Cash Battle. I won some money too! One of the Qs I answered was 'What does Anzac stand for?'"
Real estate agent gifts
1.
"Spent over $300k a few years ago buying a property.
At completion of sale agent gave my husband a company-branded coffee cup full of coffee beans. I received the same except mine was empty with a chip in the rim."
2. "I recently got some beetroot seeds in the post from an agent who sold me a house almost 10 years ago."
3. "We got a $150 restaurant voucher and the agent lent us her steaming machine for stripping wallpaper. Not too shabby."
4. "Hot cross buns. They were delicious; I still remember them, 15 years later."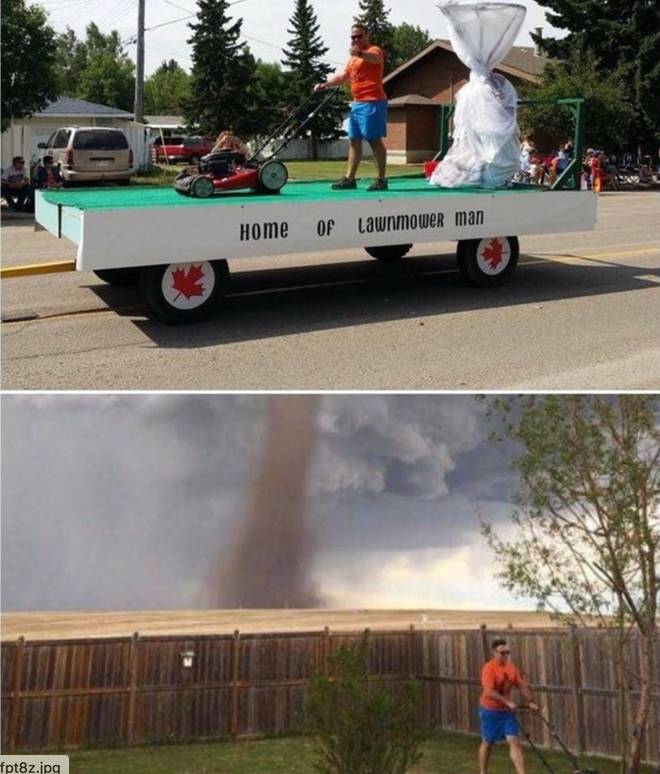 Canadian man Theunis Wessels, who was pictured mowing his lawns with a looming tornado in the background, re-enacts his claim to fame on a float for a local parade in Three Hills, Alberta. The float proudly proclaimed the town of 3200 is "Home of Lawnmower Man". His catchphrase "I'm keeping an eye on it" was emblazoned across the back.
Got a Sideswipe?
Send your pictures, links and anecdotes to Ana at ana.samways@nzherald.co.nz