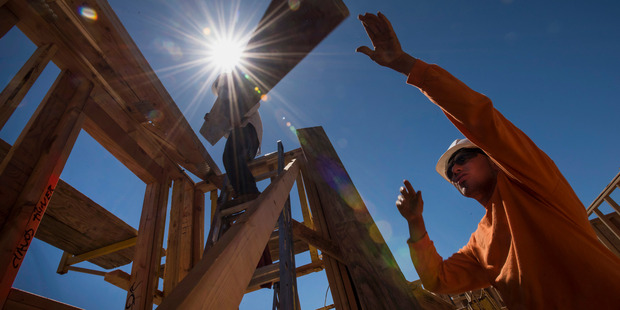 If there was any doubt that housing is registering high in the National Party's polls of voters' concerns this year, it was confirmed by the Government's house-building announcement this week.
The intention to demolish 8300 old state units in the next decade and replace them with 34,200 new units, is not as novel at it sounds, the Government has been redeveloping its housing estates for some time to put more units on valuable suburban sites.
But it is new for National to emphasise the building programme rather that the efficient use of the land. Building state houses is Labour's solution to the housing shortage in Auckland, National's has been to try to hasten consent for private housing developments.
Labour's election promise, 50,000 new homes in the next decade, still trumps the net 25,900 new homes National's plan would provide in the same period, but National's announcement will have been designed to take the heat out of the accusation that it is running down the state's housing stock and left itself unable to provide sufficient emergency housing for those in overcrowded and desperate situations.
In fact, only 13,500 of the 34,200 new houses in the 10-year programme announced this week will remain state-owned.
The other 20,700 will be sold and about one in five of them would be priced at a level the Government calls "affordable" (about $650,000 at present). Labour intends to sell all its 50,000 houses for less than $600,000, or $500,000 for apartments.
So that is the choice facing the election: A large state construction programme of houses to be sold into the market with the hope of stabilising or reducing prices or a more limited construction programme that would largely replace old, unsightly state units on large sections with modern, more intensive housing, some of which would be kept for the homeless and destitute but most of the units around them would be sold to private owners to avoid creating visible areas of social housing.
As winter approaches, the Government will be anxious to avoid the reports of families sleeping in cars and other substandard, overcrowded conditions that caught it by surprise last year.
Once again the Government is resorting to renting motels for families with no home to go to, a temporary fix that is plainly unsatisfactory from the taxpayers' point of view.
It is symptomatic of the Government's response to all facets of the housing boom that it was not prepared for the effects on those who could afford neither to buy nor rent in today's market.
National looks to be in so much political trouble on housing that it is probably relieved to see Labour produce a policy on the subject that will attract more controversy than anything National has (not) done.
Labour's proposal to stop owners of rental housing writing off losses against their other income, could dominate the discussion until Election Day.
Many voters have their retirement savings in a rental property these days and it is daring of Labour to suppose they do not need or use the write-off.
National does not deserve this stroke of luck; on housing it has been running to catch up.