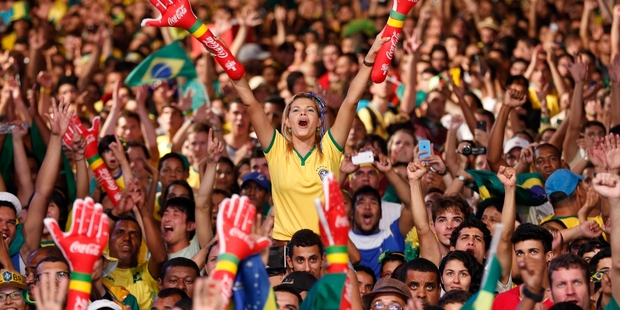 Soccer, the editor has decreed, is now football. I wish newspapers could influence pronunciation too. When Kiwi sports fans use the word in reference to this game they unconsciously ape a London accent. It becomes "faugh-baw".
This shouldn't annoy me but it does for some reason. We might not be any good at the game, and those who follow it from here might like its culture in England, but they should not pretend we are part of it.
Football (still doesn't sound right) is not a New Zealand game. It doesn't suit us. We don't do delicate footwork. We don't kick the ball back to our own goal if we can help it. We don't drop to the grass and writhe in agony at the slightest bodily contact, and we certainly don't run about with our shirt raised to expose a sparrow chest in ecstasy that we have scored.
When we play with the round ball we hoof it upfield and look for the goal. I mean, that's the point, isn't it? We play soc ... , sorry, the way the English play rugby. Kick for territory, hope for a penalty.
It is not our game but I do love its World Cup. Nothing else in sport can match its international quality. The World Cups of rugby and cricket are essentially Commonwealth games. Fifa's World Cup is true Olympics, and better than the Olympics because all countries are competing in a single sport, a team sport.
Team sports tell you more about a country than one of its youthful citizens excelling at an individual sport can do. This may be sheer stereotyping at work, but watching Brazil, Croatia and every other team can be a study in national characteristics.
Their styles and temperaments, the interaction of teammates and their actions under pressure, their handling of success and failure are all on display. It is the next best thing to seeing a country. What might Bosnia and Herzegovina be like?
But maybe I'm fondly recalling the first World Cups we saw on television. The more recent ones had lost much of that diversity. All teams were playing a more standard game, which commentators attributed to the fact that so many leading players of all countries now earn their living in the European leagues.
No matter, it will still captivate me as other competitions in this code seldom do. Fifa's four-yearly festival must be the most successful showcase for any sport in the world, which is why I can't understand all the criticism of its organisation.
Before every tournament we read that Fifa is "corrupt", thoroughly contemptible and unaccountable to anyone. This time Britain's Sunday Times came by documents allegedly showing that "secret payments" were made to give the Gulf state of Qatar hosting rights for the 2022 event.
That prompted the Economist to weigh in this week with a lead editorial headed, "Beautiful game, dirty business". Reading the reasons, it was hard to see much difference between Fifa and a successful private enterprise, which it is, in the hands of an unlisted global company.
"Though legally incorporated as a Swiss non-profit organisation," the editorial said, "Fifa has no master. Those who might hold it to account, such as national or regional football organisations, depend on its cash. High barriers to entry make it unlikely that a rival will emerge. So Fifa has a natural monopoly over international football. An entity like this should be regulated but Fifa answers to no government."
The Economist is the last place those sentiments can normally be found. Most sports these days are run at national and regional levels on a corporate model of largely self-perpetuating boards whose members are appointed for a range of commercial skills. Fifa's "natural monopoly" will last only as long as it continues to produce such a successful product.
If its board and delegates enrich themselves at a cost to the quality of the product - if "corruption" puts the World Cup in the hands of an incompetent bid that cannot deliver more than kickbacks, the resulting shambles would soon bring a rival international format into play.
Right now, there is really no arguing with the millions of dollars Fifa's World Cup is returning to every national association that makes the tournament.
Football New Zealand received a windfall in 2010. Whatever was done with that money, it hasn't borne much visible fruit. It is not our game.
I shudder to think someone like me might watch a football World Cup for an insight to New Zealand. The All Whites left South Africa celebrating a no-win, no-loss record, much as English rugby celebrated after nearly beating the All Blacks on an off-day last weekend.
The English reviews on Monday glossed over Aaron Cruden's tap, an act of class that made the difference. That is our game.