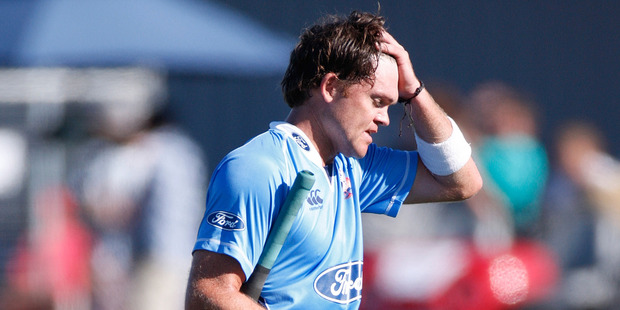 Who knows how the wheels spin in Lou Vincent's head, how a bloke so outwardly humble and likeable could let cricket, his mates and the fans down.
But let them down he has, to a horrendous degree, and the debacle will get worse if this cricket match-fixing fool wins the immunity from prosecution he apparently desires in return for testimony against fellow crooks.
Vincent is not a whistleblower, nor a saviour. He has only come out singing, to the ICC anti-corruption unit, when trapped. Even then, the deluge of leaked information suggests he is portraying himself as a confused boy under the spell of a powerful, crooked contemporary, although he concedes to wanting the money and also acting on a resentment.
Don't be dissuaded from judging Vincent as a disgrace. He fixed games, and tried to recruit others. He is just another scam artist. New Zealand society has plenty of these parasites and they've all got their excuses and stories.
Vincent is years late for any chance of being tagged a whistleblower, a term for the courageous few who often take enormous risks to reveal big and bad brothers at their worst. Whistleblowers are not willing perpetrators who belatedly sing like canaries to avoid doing bird.
Nor was Vincent in a grey area. The day a batsman heads to the middle on a pre-determined deception is the day he has stepped over a clear line. Iain O'Brien, the retired New Zealand bowler, says he confronted Vincent, and suggested he take remedial action. Vincent had his chance then.
The ICC has a squealer in its grasp, but there must be doubts about the legitimacy of Vincent's testimony. A man who defrauds teammates is surely just as capable of making fantasy or contrived revelations, especially if he thinks these will get him off the hook. He may still fear giving the truth, the whole truth. The bulk of his testimony will probably be on the mark, but he is simply not a man to be trusted. Its hard to suddenly turn a fixer into a gatekeeper.
I sensed, perhaps wrongly, a strange lack of outrage over the weekend as the story rumbled on. Fascination and sadness, yes. Disgust, not really. Maybe this is so because these crimes weren't committed in the New Zealand uniform or in New Zealand (maybe) and test cricket was not directly touched. Cricket has long been revealed as the worlds dirtiest sport, so no surprises there. The rise of T20, an abomination, has wrecked crickets authenticity already.
And cricket's moral compass is in a tailspin because the game appears powerless to resist overwhelming riches in the tragically corrupt Indian scene. All professional sport, with its corporate heart and PR skin, has dumped the old ideals anyway.
Even New Zealand Cricket chief David White appears more interested in brand harm reduction, rather than ripping Vincent to shreds, by ring-fencing the player's fixes in paddocks afar. Pragmatism rules.
Make no mistake though. Vincent is a fraudster and a cheat. His battle with depression is irrelevant. The man deserves jail time, and severe cricket bans. His name should be scrubbed off any honours board.
Like the other sports disasters, from Lance Armstrong to a trio of jailed Pakistani cricketers, there should be penalties before the hour of possible redemption arrives.
A nice touch would be to offer Vincent immunity, squeeze him dry for information, then withdraw the offer. One dirty fraud deserves another. Cricket's rot may be beyond removing but for a satisfying sense of retribution, why not wreck a few of these jerks.
Immunity from prosecution? What a joke. If very slightly reduced sentences assist the prosecutors then okay, at a pinch. Much more satisfying though to imagine them charging in off the long run.
Debate on this article is now closed.