Schooled here since 2010, Tongan youngster should not be denied shot at NZ side because he's not 'our own'.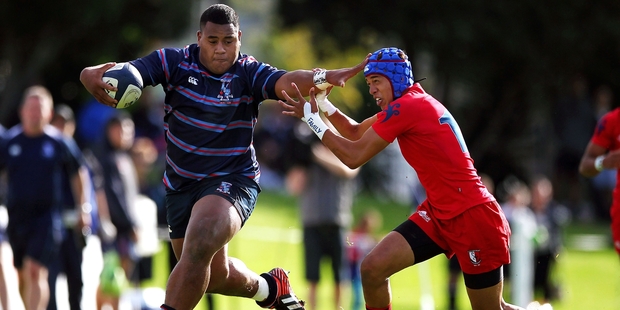 My son informs me on a regular basis that he wants to be an engineer, which sounds like a great career choice, unless he's expecting any help from me with his work.
Aptitude-wise, I have all the accuracy of a Cabinet minister's memory. I'm sure he will one day make a fine engineer, though the field may be a hard one to crack, given how many kids are hell-bent on becoming engineers.
Then again, he's only 5, so he's got time to change his mind. He may end up picking apples for all I know.
Of course, if I outsourced my parenting duties to the New Zealand Schools Rugby Council (NZSRC), things would be simpler. They perhaps would make sure all the kids in his high school class without Kiwi passports would be barred from engineering school. That would cut down the competition. Then they might make sure he signed a letter of intent stating he would commit to engineering, even if he had a late change of heart or the apple-picker market enjoyed a huge upswing.
I've been thinking about this because of a schoolboy named Taniela Tupou, a Tongan 18-year-old in his final year at Auckland's Sacred Heart College. The size of his frame is matched by the size of his heart - he is generous, gregarious, open, honest, humble and protective. He obviously has some talent for rugby, as his effort in last week's college game against Kelston showed.
However, even if he was deemed good enough to make the New Zealand schools team - and that's a big "if" - he can't be. He can't, because as one leading Auckland secondary schools rugby official said, "we have to protect our own players".
Let that sink in. Tupou, a fulltime student since 2010 in New Zealand, is ineligible for the team because, according to the body that promotes Auckland secondary schools rugby, he is not one of "our own players".
Really? Well, look at it another way: Tupou is also ineligible for any Tongan secondary schools team because he's not at school in Tonga. At least he knows where he stands.
He could have grounds to argue his case if he were inclined (though I suspect he will not want to make a fuss) but I don't know if he's read the mission statement of the delightfully sibilant New Zealand Secondary Schools Sports Council.
If he had, he would note that the final sentence, coming after a collection of meaningless words - "support", "leadership", "heritage", "values" - that seem to be reserved for mission statements, reads: "It represents and is accountable to every New Zealand secondary school and to all students."
The NZSRC has deemed Taniela Tupou and other secondary school students like him ineligible for a team selected from New Zealand schools. The NZSSSC must be in agreement with that decision, which would seem to put them at odds with their own mission statement.
If we were to take those meaningless words and make a meaningful sentence with them, it would read: "The NZSSSC has shown scant leadership and support when the values of a rugby player are of secondary concern to his heritage."
Much better.
You do wonder where the pressure to apply these rules comes from. It is interesting to note that if you visit allblacks.com, the New Zealand schools team is listed alongside New Zealand Rugby's other rep teams and is noted as "the first rung on the high performance ladder of New Zealand Rugby".
What that website fails to include is the fuller description, offered on nzru.co.nz, which also notes: "New Zealand Schools is not technically an NZRU team: the team is selected and managed by the New Zealand Schools Rugby Council (an associate member organisation), which is substantially funded by the NZRU."
Will Taniela Tupou make it as a professional rugby player? How could I possibly say? All I know is that we can engineer a way to make sure he, too, gets a crack at the first rung of the ladder.
And all that's required is the means to pick the right apples.
Mr McCawesome
Israel Dagg is probably keen to take most of the credit for the Crusaders' performances over the past couple of weeks but let's face it, what we have seen is empirical evidence of the McCaw factor. Since the veteran seven's return the Crusaders' per-game averages in points scored, tries scored, line breaks, offloads, defenders beaten, turnovers won and rucks won are all up on the same time two weeks ago. And before you bring it up, the Crusaders' per game penalty count is down. All hail Richie.
Picking six
If you're thinking about getting your office sweep going to pick six teams for the playoffs, consider this: Last year there was only one change to the teams in the top six between this stage of the season and the conclusion of the round robin (the Cheetahs came from seventh, the Blues faded out). Also last season, no team with more than four losses at this stage went on to the post. If that's anything to go by, the Waratahs (4 losses) could be the best bet for a play-off spot from outside the top six.
Strictly speaking
We thought we might have a look at the likelihood of a carding from each of the three refereeing pools. Leading the charge from the South African team is Jaco Peyper, who has handed out 13 yellows in nine matches. The South African referees have combined for 21 cards in 22 matches, or a .95 rating. The New Zealanders lie in second with 21 cards from 30 matches for a .70 rating, and, with a .60 rating, the Australians are the least likely to reach into their pockets. Some things never change.