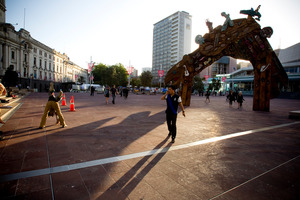 Mayor Len Brown's goal of creating the world's most liveable city has come a step closer with Auckland councillors agreeing to fund the Auckland Festival as an annual event on a trial basis.
For the next three years at least, this will put Auckland on the same cultural footing as Australian rivals like Sydney, Perth, Melbourne, Brisbane and Adelaide. Unfortunately for Wellington, it puts something of a question mark over its long established New Zealand Festival.
Until now, the two festivals have co-existed - young buck Auckland on the odd years, Wellington the even. But from 2016, when Auckland goes annual for the first time, they will go head to head. With upwards of 30 per cent of Wellington's audiences coming from outside the capital - 10 per cent or more from Auckland - the NZ Festival box office will take a big hit.
In a report to Auckland councillors, New Zealand Festival organisers were reportedly expecting "to lose the majority of that [the Auckland audience] if the Auckland Arts Festival becomes annual".
And that's not the end of the bad news. "They expect to have difficulty receiving the same amount of media exposure because the media is predominantly based in Auckland." There's also concern about sponsorship, "a number of their key sponsors" being Auckland-based.
Kerry Prendergast, chairwoman of the NZ Festival Board and long-time Wellington mayor, is putting a brave front on the threat, noting the Wellington festival has been around since 1986 and "has a really strong brand and phenomenal track record".
She admits there "will be greater competition for audience and profile" but believes "we'll continue to attract people from outside our region because of our unique atmosphere". With her Nelsonian telescope firmly applied, she insists "we're doing a piece of work on what's sustainable for the NZ Festival going forward", but emphasises that any decisions will not be "an outcome of the Auckland Festival going annual".
As a consumer of the arts, and one who used to regularly make the trek to Wellington in the festival's early glory days, I must confess that what attracted me was not the unique Wellington setting, pleasant as late summer in the capital can be, but what was on offer. That's why I can't help thinking that instead of the two festivals now squaring off for a brawl for customers that is likely to end in tears all round, the two organisations get into a huddle early on, and form a partnership of some kind.
Instead of both scouring the world for rival acts and staging competing festivals, wouldn't it make more sense to co-operate, finding international shows and presenting them in both cities. For consumers at least, it would mean some of the cash currently spent by out-of-town festival-goers on travel and accommodation could be spent on event tickets instead.
Auckland Arts Festival Trust chairwoman Victoria Carter says she and chief executive David Inns - a former NZ Festival staffer - are keen "to explore synergies" with their Wellington counterparts. "For example, the commissioning, staging or development of new New Zealand work, co-producing work and sharing shows that we would be unable to bring on our own."
However, "we must remember that Auckland is a very big market with a diverse make-up of cultures and peoples. We see a huge opportunity to grow the market. Nearly half the Festival 2013 attendees were under 45".
Ms Prendergast similarly points to the chance for increased collaboration between the two festivals by way of joint commissioning, especially for New Zealand works. She also agrees to the sharing of costs of some big overseas productions. But she baulks at the idea of a joint two-city festival. Councils seek different "strategic outcomes" from arts festivals, and she doesn't feel a joint festival "would meet the needs of Wellington City at the moment".
Wellington, she says, sees the festival as "absolutely about creating the environment that will attract not only Wellingtonians, but something that will attract new people who want to come and work and invest in the city".
It's a big ask. And a big gamble. I've always thought the main aim of community-based events like an arts festival should be first and foremost to provide pleasure and entertainment to those of us helping fund the event.
If outsiders look in from afar and are tempted to join the party - either short or long-term - then so much the better.
This year's NZ Festival cost $12.8 million, a third of that funded by tickets sales, the rest from sponsors and government - central and local - funding.
The 2013 Auckland festival came in around $10.4 million, ticket sales bringing in just over $3 million, Auckland Council paying $4.38 million and sponsorship, trusts and Creative New Zealand covering the rest.
Auckland Council has agreed to stump up another $1 million a year over the trial period, and no doubt there are hopes of new sponsor and Creative New Zealand funding.
In Wellington, they're still mulling over their next moves.
There's a lot of money at stake. And a lot of entertainment at risk.
For the sake of theatregoers in both cities, let's hope the two festivals hold hands and share their resources and talents.
The alternative could set back New Zealand cultural life 50 years.