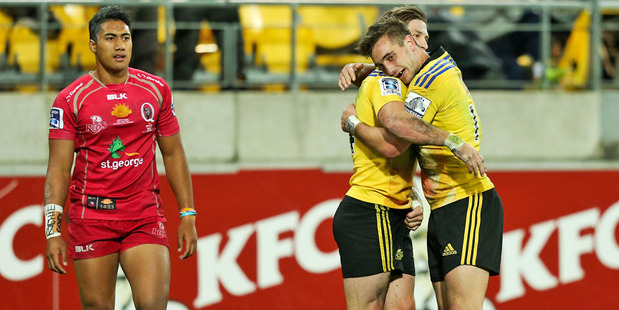 The Hurricanes are living proof that old reputations die hard.
Because while their four-game winning streak has seen them surge to top of the New Zealand conference in Super15, they remain virtually unloved by bookies and sports bettors.
The Canes, who meet the erratic Waratahs in Sydney tomorrow night, are still only the sixth favourites to win the title, paying $13.
And that is with the NZ TAB, many of whose rugby bookies are based in Wellington and have the geographical disadvantage of being Canes fans. Overseas bookies rate the Canes as long as $17 chances to go all the way.
While that is a lot shorter than what they were paying after losing four of their first five games, it is still a remarkable price for a conference leader with a near All Black backline.
But while fans are quick to forgive recent or long-term disappointment, bookies and professional punters aren't known for their emotion so the Canes huge price to win the tournament is based on three things.
Firstly they have never won anything; they have a tough run home and most importantly virtually no bookmaker worldwide would be standing to lose money on them at present because they would have been abandoned by punters after their terrible start to the season.
But if they were to become the first team this season to beat the Tahs at home tomorrow night that would all change dramatically, and the Canes could find themselves as short as $6 to win the title by Monday morning.
And a win in Sydney would not totally surprise.
On a weekend when only the Sharks in Melbourne are favoured to win away, the Canes have a chance as long as their sometimes brittle scrum can stand up to the monster Tahs pack.
They thrashed the Tahs last time they went to Sydney two years ago and while much of made of the very real Israel Folau threat, his gaps tend to be created by Kurtley Beale and those midfield breaks, particularly on the outside, could be harder to find against one of the world's great defensive readers in Conrad Smith.
Last weekend's results left the Sharks as somewhat tenuous $4.50 favourites to win the title but that could change enormously in coming weeks as the embark on their horror Australasian tour.
The big mover has been the Crusaders, both because of their win over the Chiefs two weeks ago and other results going their way last weekend.
With one of the easier roads home, McCaw back and Dan Carter looking fit and a chance for a post International-window comeback, the Crusader have shortened from $9 three weeks ago to be the $4.75 second favourites.
And the defending champs? Well after getting as short as $3 with Aaron Cruden was running the ship, they are now $5 to make it a threepeat, even with a gimme against the Lions tomorrow.