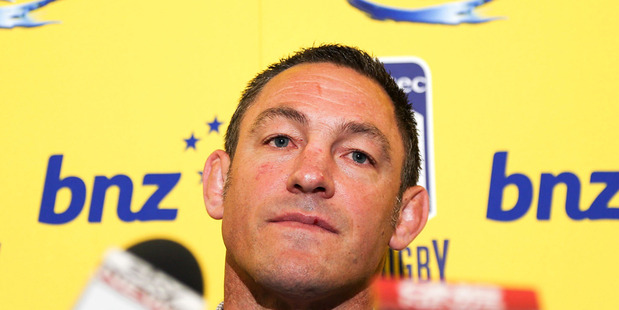 The Hurricanes have found the elegant solution to a potentially inelegant problem.
Coach Mark Hammett has announced he will not be seeking re-appointment after this season.
The knives can be put away. There's no need to keep blading the man - he's pretty much done that to himself and for that he deserves enormous credit.
So few coaches know when their time is up. Most of the strugglers hang in there for grim death - refusing to acknowledge that they are the problem not the solution. There is a touch of the gambler in all of them - they only ever see the potential for turnaround and improvement, they never contemplate that things could get decidedly worse by them hanging around.
No one likes to jump these days: everyone would rather wait until they are pushed, presumably in the hope they can take a bigger pay-out with them.
It's not particularly honourable, which is why Hammett - someone who has always seemed like a thoroughly good bloke - can see out the rest of this campaign with his head held high.
Something deep inside told him that he wasn't the right man to take the Hurricanes to where they want to be. For whatever reason, he wasn't able to fix their inconsistency or harness the true power of their instinctive and excessively talented backline.
No shame in that - no one else has rally managed that either but that doesn't mean Hammett should have been given an indefinite period at the helm. Four years was enough to see that on balance, there wasn't enough compelling reasons to keep him.
So what now for the Hurricanes? A search for a new candidate they say will begin shortly. And the options?
It would be hard to look past Wellington and New Zealand Under-20 coach Chris Boyd. He strikes as someone who could do for the Hurricanes what Dave Rennie has done for the Chiefs: bring a pile of common sense, good judgement, clear communication and a wealth of knowledge to the franchise.
Drums would have beaten for Tana Umaga - a legend of the game in every sense and a man held close to the hearts of the people of Wellington. But - perhaps coincidentally or perhaps not - he announced today that he he is extending his contract with Counties.
There are a lot of empty seats at the Cake Tin most games - an inspirational figure such as Umaga would have helped fill them.
Former Lions coach John Plumtree, now an assistant with Ireland, could probably wriggle out of that and put himself in the frame. Manawatu's Jason O'Halloran is a promising coach - but it's probably too early for him.
Right now, the actual choice isn't so important, what matters is that they have been given a transparent opportunity to make that choice.