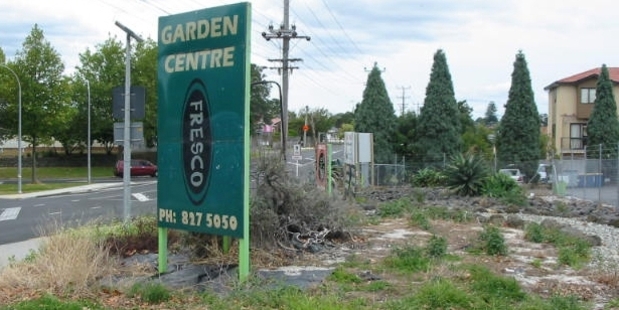 Scott Fraser wonders if the entrance to this garden centre could be tidied up by showcasing some of its products.
Headlines not fit to print
All editors write headlines they dare not use. Here are a few submitted to Heds Will Roll .
1. Hey, Hey, We Were Monkeys! (A story about a scientific breakthrough concerning evolution and DNA)
2. Teddy Joins Dead Kennedys (An article on the death of Sen. Ted Kennedy)
3. For Chuck's Sake (An obituary of Chuck Brown, the godfather of go-go)
4. God Hates Tags (An article about graffiti on a church)
5. At Your Cervix (A women's magazine service feature about gynaecological health issues)
No beersies on this flight
A reader writes: "On my flight from Wellington to Auckland at 6pm on a new Airbus A320, the cabin crew advised passengers that they didn't have their liquor licence yet and we could only have soft drinks throughout the flight. There was a bit of a group sigh across the plane. Why didn't the airline get its liquor licence at the same time as they put this plane into service?"
And no beersies for you, doc
My driver's licence expires shortly, so I went to get a new one. The NZTA cut up the old licence and gave me a temporary paper one. Last week I was declined at the supermarket when buying a 6-pack with all the other family groceries because I had no photo ID - at 35 years old! I had my 2-year-old son with me as well, which I accept is not especially conclusive of age, but still was not served even when I produced a business card saying I was a doctor (consultant) and listing my university qualifications. After showing my business card, the checkout operator asked me why I wasn't working today. I explained that I look after my two boys while my wife works on Wednesdays ... The evidence was stacking up but the operator, who after consulting her manager, was in a hole too deep to change her mind. No beersies for me this week."
This driver of this vehicle appears to put out cones on a public kerb to reserve their place at an Auckland train station. Oh to be so important!
Video: Kevin Bacon's entrance on US talk show The Tonight Show was tremendous and will appeal particularly to women in their 40s...
Picture this: A beautiful series of photos of mothers and daughters from around the world...
Video: Awesome Japanese ad for chuddy...
NZHerald app users please click here for video.
Got a Sideswipe? Send your pictures, links and anecdotes to Ana at ana.samways@nzherald.co.nz