Dairy giant still has work to do cleaning up the industry but has managed to ride the global dairy wave well.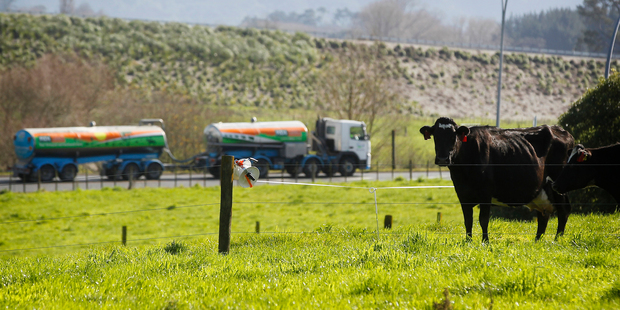 Here's hoping some of that Cyclone Lusi rain soaked in on the Waikato's dairy farms at the weekend.
Although, if I said the farmers could use a break I'm pretty sure a lot of readers would laugh.
Dairy is getting a lot of bad press at the moment - and with some justification - about issues such as the water quality of our native streams and of course the debacle that was last year's botulism scare.
In fact, there is probably a large chunk of the public that would not have a good word for the dairy industry right now.
Perhaps it has always been that way - something to do with the urban/rural divide. Or perhaps it divides down liberal and conservative lines?

"It was a bold move for Fonterra CEO Theo Spierings to head straight for China as the scandal broke, but in hindsight it seems to be one of the things Fonterra did get right."
Research into Kiwi attitudes about the industry would be interesting to see.
I'm not sure what the split between supporters, critics and the ambivalent masses would be.
But New Zealand didn't really fall in behind Fonterra when things got rough last year. I certainly didn't.
The company made some big mistakes and then reacted poorly. It did damage to the industry which was ironically weighted more heavily towards small independent operators than Fonterra itself. So it was very positive to see Fonterra take it on the chin last week and accept the charges that were brought by the Ministry of Primary Industries (MPI).
These included processing dairy product "not in accordance with its Risk Management Programme" and "exporting dairy product that failed to meet relevant animal product standards". The other two charges related to the failure to notify the relevant officials about these issues.

"And while the performance of the PR team and senior management appeared poor in this country, I have only heard good reports from Chinese nationals about the way the company fronted and took responsibility there."

Liam Dann is business editor at large at the New Zealand Herald. He has been a journalist for 20 years, covering business for the last 14 of them. He has also worked in the banking sector in London and travelled extensively. His passion is for Markets and Economics, because they are the engine of the New Zealand economy. He hosts The Economy Hub video show every Thursday.

Read more by Liam Dann