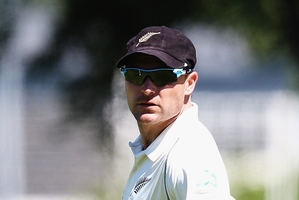 I am going to conveniently overlook that New Zealand second innings. I am going to call it an aberration and I am basing that on the trend this team has shown this season.
However, I hope desperately that, in one day of total madness, Brendon McCullum and his men have not obliterated the goodwill they have developed this season.
I read an article yesterday saying the cricket world is cheering on our team as they hand it to India. Is this good versus evil, the little kid beating up the notorious schoolyard bully? I don't think so. It's the Australian cricketers who act like bullies, not these Indian cricketers, whom I believe play oblivious to the standover tactics of their governing body.
So are we gaining respect as a cricket nation through this plucky effort against the superpower? I'm not totally sure about that either.
Based on what I'm seeing, India don't appear to give two hoots about what happens outside of India in a market like New Zealand.
They have been seriously sloppy in this series. Although when McCullum gave them a sniff by not enforcing the follow-on and poor batting allowed the Indians to get their tails up, they looked like the team their world ranking suggests.
Why, with relatively fresh bowlers, a pitch still offering enough bounce, swing bowling atmospheric conditions, and an Indian batting line-up looking fragile, you would not bowl again is beyond me. However, history suggests 407 should be too many.
It may take more than a test win against India in New Zealand to garner real respect around the world but, while a good summer in New Zealand may or not be making the world take notice, it is making our own countrymen take note.
This is vitally important and the first thing that needs to be addressed ... and it's happening ... but, boy, the events of yesterday afternoon, if the win is not achieved, may have reversed that progress somewhat.
McCullum is almost the personification of what has been happening. Could it be that the most polarising cricketer this country has had for some time is beginning to win the public over?
McCullum is not an open book and this has counted against him in the way the public perceive him; this summer he has been able to let his own cricket and that of his team do the talking for him. He has played a number of innings that reeked of maturity this summer.
Going over 200 for the second time statistically strengthens his record but I have also noticed the scores between the big ones are more significant nowadays. What would a win in this test do for him? He can't allow this one to unravel ... public expectation is growing and he has to satisfy the mob.
The public has screamed for consistency and the players have talked about their desire for consistency. Well, consistency is gained by being a better player technically, strategically and mentally and a team with better players is a more consistent team.
Guess what - the engine room of the batting line-up of Kane Williamson, Ross Taylor and Brendon McCullum is just that: better. They are simply better and more mature players. Don't let one collapse fool you. Everyone falls off the wagon sometimes.
Our cricket team is getting better and I like the way, when you talk to some of the key players, there is a sense of not being happy, of a desire to not be complacent.
Could it be they have had a taste of success and want more and actually realise what is required to achieve more?
I hope so - but I am, however, nervous about today.