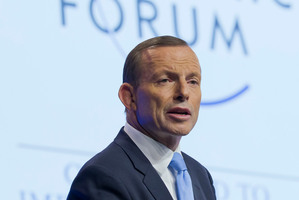 Bad wind turbines. They kill birds, cause depression and steal from the poor.
You'll probably have heard about the apparent health hazards, which are probably worse for the parrot that gets hit for six than for the farmer feeling a bit gloomy.
But wait a minute, stealing from the poor?
The way Maurice Newman tells it, wind companies are drinking from a vast public-funded trough, part of an obscene transfer of wealth from the poor to the rich. "I think it is a crime against the people," he says.
It's a crime that plays into Newman's view of human-induced climate change and renewable energy. He thinks the former is a con, the latter a self-serving movement held together by the promise of unlimited government cash.
Newman lives in Australia, which has just had the hottest year of the hottest period on record, and where large swathes of the country have in recent weeks found that 40 is the new 30 - only in Celsius, not years.
Does this give him pause for thought? Hardly. Ignoring the scientific consensus - or scientific delusion as he calls it - on global warming, Newman prefers to quote one study that claims we're headed for a mini ice age. Aged 75, he's unlikely to see it, or alter his world view. Zealots rarely do.
Why does this matter? Don't be fooled by the impressive combover, Newman is a world removed from the guy propping up the bar with whom you try to avoid eye contact.
He's Prime Minister Tony Abbott's chief business adviser, a boardroom veteran and one of Australia's most influential people.
Canberra today is his kind of town, with a federal Government run by fellow free-market ideologues who share a climate science antipathy driven not so much by the how and why of CO2 emissions, but the sheer horror that business might be impeded from generating maximum profits and growth.
It's how Abbott got the Liberal Party leadership, after powerbrokers rebelled against Malcolm Turnbull's support for an emissions trading scheme.
"Tony and the people who put him in his job do not want to do anything about climate change," Turnbull said then. "They do not believe in human-caused global warming."
Holding their fingers to the electoral wind, Abbott and Co tried to give the impression they were fair dinkum.
But true colours are re-emerging. Bureaucrats rather than a minister were sent to international climate talks. When the Commonwealth proposed a fund for poor nations, Abbott said no. His proposed direct action alternative to the carbon tax has been ridiculed.
Previous Labor government climate initiatives are now being torn down. It is bad news for emerging renewables businesses, starved of vital investment, but good for incumbents like the miners, who had fretted about their multibillion-dollar business models and market share.
Next is Australia's commitment to produce 20 per cent of its energy from renewables by 2020. A review panel will reportedly include hard-right figures like Newman, who argue renewables are responsible for power price rises and that the target should be scrapped.
Wind power is Newman's pet hate. He has a personal interest, threatening legal action against a farmer who wants to install turbines on land near the businessman's country hideaway.
But Newman has reason to be heartened.
Although wind power continues to enjoy public support, and claims of sickness and depression suffered by those near turbines have yet to be backed by research, Abbott wants a new "independent review" on the health impacts.
This is despite the fact his chief medical research body has just finished doing exactly that. Its report is gathering dust on ministers' desks.
Newman says Australia is being held hostage to climate change madness.
He's right, just not in the way he meant.