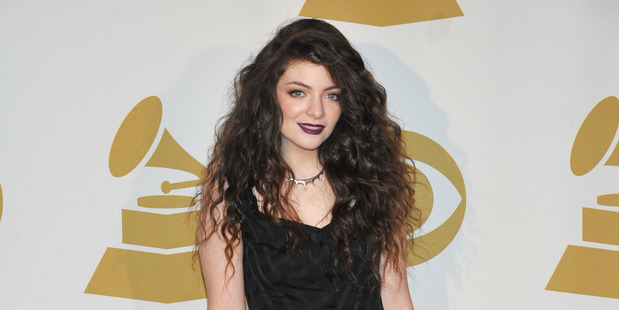 LA is awash with small frantic people wearing lanyards. The string of movie award dos has now melded in to the music award frenzy, and not a single room is available in any decent, or most thoroughly awful hotel within a 50km radius of the Staples Centre.
Swarms of tiny people rush about in dark glasses. The thin and beautiful ones are the stars, the thin and unattractive ones are publicists, managers, minders and wranglers. All of them are hungry.
The entourage are hungry for success; the stars are just plain hungry. One music sensation told me she hadn't had a cupcake in two years.
Most of them have been drinking juice for a month, and will need help wobbling down the red carpet.
Lorde won't be hungry, though. She is far too wise to live off grapefruit and the smell of kale.
In this town I have learned two important things.
1. Lorde fabulously terrifies everyone in LA, the way an escaped tiger would terrify a mothers' group in Grey Lynn. She is dangerous because she is young, brilliant, authentic, uninterested in the BS, alternative and has no desire, it would seem, to play any of the games they want to play. One of Ryan Seacrest's people sauntered up to me at a party, and asked me, "What's with Lorde? Ryan wasn't comfortable interviewing her." I replied with my fiercely Kiwi chin up, "I love interviewing Lorde. You just have to remember she genuinely doesn't care for the 'wank' of it all." NZ now seems like Mars to LA people. "You know Lorde?" they ask in trembling, terrified tones, "Please don't hurt me!"
2. You can get anywhere you want in Los Angeles with the right lanyard. Lanyards are the key to the city. Forget money, wealth and fame. You need a lanyard. As Kiwis we naively expect people to see that we are nice, friendly, harmless and good sorts; but you can't get through on charm and good mates in this city. Everyone gives you an LA promise "We'll meet up!" "We'll do lunch!" "I'll make sure I get you in the party!" You don't believe a thing in this town. You don't need or believe an LA Promise. You just need a damn lanyard. This trip I got my lanyards before I got my luggage.
So will Lorde win today? She should. I watched backstage as she rehearsed and saw other music stars staring, overwhelmed, amazed and aghast at her voice and her presence.
I think she may take away song of the year. Some would argue Macklemore's Same Love deserves the win, it changed the world, especially our little gay friendly world, but then Lorde has also changed the world. She sings about the ridiculousness of the very place she's "owning" right now.
She doesn't tell boys to "Come and get me when you want me!" She doesn't tell girls that "Any love will do." She may be responsible for a worldwide fourth wave feminism. I hope she wins, but I won't get to see that. Sadly I don't have the correct lanyard.
Polly Gillespie hosts the ZM morning show with husband Grant Kereama, 6am-10am weekdays.