How much time does connected comedian Rose Matafeo really spend checking her email, Facebook, Twitter, Instagram and more? From self-googling to live-tweeting soap opera cliffhangers, she diaries three days in her online life.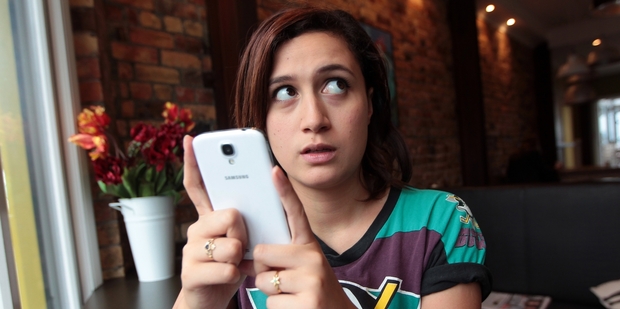 Like most other 21-year-olds living in 2014, I have an addiction: I can't go more than one day without the internet.
When the Herald on Sunday asked me to chronicle a few days of my online adventures, I was afraid they were going to sound anything but adventurous. Living half of your life online turns out not to be that riveting as a narrative. The internet is like wandering aimlessly through a Borders book shop (RIP) that goes on forever and ever. This diary is a three-day account of my life on the internet which, it turns out, is compelling only if you have a fascination with pyjamas and Shortland St.

Monday
I wake up to the shrill sound of my Samsung alarm and stop it as fast as humanly possible. I'm only 30 per cent awake, but I open Gmail to see what overnight deliveries I've received. An email from Elfster.com is reminding me that I need to buy a Secret Santa present for my friend. Kikki.K Swedish Home and Gifts asks me, "Need gift inspiration?" No Kikki.K! Now go away, I need to sleep for 15 more minutes.
Through one eye (the other one's still sleeping) I read the emails our hard-working producer has sent at an ungodly hour the night before.
I work as a writer on Jono and Ben at Ten, where a lot of our material comes from the week's news, so as soon as I get to the office I open nzherald.co.nz and stuff.co.nz. Unfortunately, Monday mornings are rather slow, and the headlines are usually some story about a sad cat or an opinion piece about the ridiculous price of cheese.
I quickly give up on that fruitless endeavour, and get stuck into the main part of my day job - procrastinating on the internet. Many TV writers say that most of their job involves screwing around on the internet, waiting for those few afternoon hours of inspiration, or perhaps rather desperation when they've realised they haven't done a single thing that day.
There are 20 tabs open on Google Chrome. It seems appropriate that, since I'm such a cluttered mess in real life, my browser should reflect that. Gmail, Twitter, Facebook, the Wikipedia article for Holly Hunter, the IMDB trivia page for Twin Peaks; I'm an internet hoarder. "Open in New Tab" is my way of taking an internet clipping, putting it on a pile never to be read again.
While I wait for my lunch, I Google what a "brony" is for some reason. urbandictionary.com tells me that it's "a male who enjoys the show My Little Pony". I store that somewhat useless information in my brain for a future party where I can impress friends and colleagues with my immense knowledge of bronyism.
In the afternoon, I spend about an hour on the Major League Baseball merchandise site, and have six items in my cart. I go to check my ASB account and transfer money from savings to cheque.
My general rule is that if I can remember my credit card details, I'm allowed to buy it. A stupid rule, I know - but I am a very stupid person. Man, this diary is making me sound like I don't actually do anything. I do things! Oh God, maybe I don't.

Tuesday
11.27am. "What's the name of that Hootie and The Blowfish song?" I ask a room of silent writers. We Google it. Then YouTube it. Then we Vine ourselves singing along to it.
All of this takes 20 minutes, before we go back to staring blankly at our half-empty script. I check my phone throughout the day for texts, Instagram or Snapchat notifications (all the things I don't have on my computer).
I get a Snapchat from my friend Laura in Wellington. She usually only sends photos, which is good since I never check video snaps at work, I save them for bedtime. What a dull sentence that was. I can't believe I'm actually writing that down to include in a newspaper article for thousands of people to read.
At 2pm, I Google my own name. "What the hell is wrong with you dude? Don't Google your name, that's so embarrassing," the voice of reason in my head screamed at me. "Shut up, me!" I think, while I proceed to scour the internet for any brief mentions of my name.
"Why do people think that @Rose_Matafeo is funny? Um she's not."
Okay, maybe I deserved that.
10.56pm. My flatmate Nic sends me a link to a video compilation of parrots annoying cats. "LOL" I type into the Facebook conversation, though our rooms are so close he probably could've heard me type it.

Wednesday
It's 7 o'clock, and I'm lying on the couch live tweeting the Shortland Street cliffhanger finale. I'm hoping to write some good tweets and get more followers because I'm a loser and don't have any real friends. Have suffered facial injuries from attempting to tweet on my back while holding my phone above my head and dropping it on to my nose.
Is this really what my life has come to? Sitting on a couch, broadcasting my inane thoughts about a soap opera in the hopes for more fake internet friends? I can't remember the last time I had a conversation with someone without clutching my phone nervously, searching for that flashing blue light that tells me someone has liked my Facebook status or favourited my tweet about how hot the guy in the Hunger Games 2 is.
I don't know what it's like to exist any more without constant contact with the world around me; except the great irony about it is that I use it as a way to avoid actual human contact. I scroll through Twitter while waiting for my morning coffee so I don't have to make small talk with anyone I bump into; on the bus my eyes will dart down to my phone to avoid talking to an old high school peer; I've even been known to quote my family on Twitter while still at the dinner table. What kind of monster have I become? Well it ends now. I'm going to go read a book.
9.08pm. I'm in bed reading an article about Kate Winslet's third baby on the Daily Mail. FML.