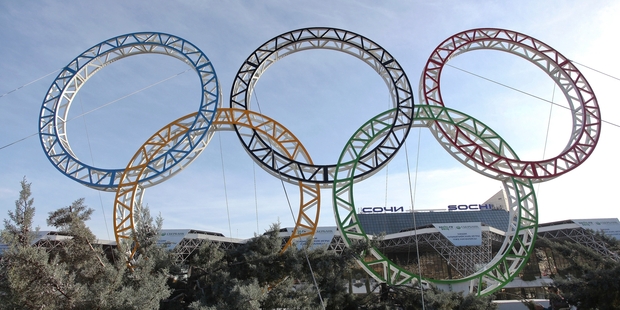 Sochi is on the cusp of hosting one of the least loved winter Olympic Games.
Threats of terrorism attacks, anti-gay legislation and possible human rights abuses, plus a bloated budget must worry those in charge of the Olympic brand.
Up to 20 New Zealand athletes (the team is named on Friday) will experience what is expected to be the most expensive Olympics in history - summer or winter; its US$50 billion budget blow-out will eclipse the US$40 billion spent on the 2008 Beijing summer Olympics and dwarf the estimated $19 billion to host in London.

The event could be saved by scintillating competition but the winter Games struggle to compete with their summer counterparts for star quality. It's doubtful Sochi can find the Usain Bolts, Michael Phelps, Chris Hoys or Val Adams to captivate a global audience and dissolve negative publicity.
With 27 days to go, Russia's celebration of snow and ice sports has instead become a public relations minefield.
Sochi is the warmest place to host a winter Olympics, with an average February temperature of almost nine degrees. However, organisers are feeling the heat for other reasons. Suicide bombing attacks before New Year left 34 people dead in Volgograd, 700km from Sochi. The attacks raised questions whether Russia can guarantee security during the Games, despite talk of up to 40,000 police and interior ministry troops being deployed.

Russia's most wanted man, Chechen rebel leader Doku Umarov, has encouraged his fighters to target the Games as part of efforts to establish an independent Islamist state in the Caucasus region.
On one hand, security needs bolstering; on the other, it needs relaxing. In something of an oxymoron, Russian authorities are setting up special zones for protest rallies at the Games. Initially there was talk of a ban on rallies but now they can be held provided - and this is where it gets farcical - authorities agree.
Most pre-Games concerns have stemmed from Russian President Vladimir Putin signing off anti-gay propaganda legislation last year.

A week after the law was passed, the Associated Press reported a survey by the independent Levada Center polling agency found 76 per cent of Russians in support and 17 per cent in opposition. Russia decriminalised homosexuality in 1993 but hostility remains.
Putin has massaged the situation by telling new IOC president Thomas Bach that athletes, fans and guests would "feel comfortable at the Olympic Games regardless of their ethnicity, race or sexual orientation".
A thaw has also come from a recent Putin-driven amnesty which saw two members of the female punk group Pussy Riot released from prison, Greenpeace activists released over a protest against Arctic oil drilling and former oil tycoon Mikhail Khodorkovsky, once Russia's richest man, pardoned on humanitarian grounds after more than 10 years' incarceration.

However, it hasn't stopped Putin closing down Russia's largest government-owned news agency, RIA Novosti, and announcing plans to replace it with a new organisation called Rossia Segodnya (Russia Today) under which it's understood he can exercise more control.
Such Russian government actions and the subsequent jaundiced publicity are the price the IOC pays for hosting pinnacle events in authoritarian states.