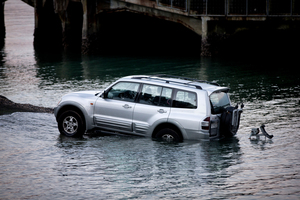 Welcome to 2014 Driven readers, nice to have you all back - and you can look forward to plenty of issues full of the latest news, road tests and features on all that is good in the motoring universe.
There are some big model releases in the coming months and a bunch of vehicles due (or at least rumoured to be due) at the first round of the year's motorshows.
Geneva in March is going to be a big one, and Driven will be bringing you huge coverage from the show floor, followed by a couple of very interesting road tests in Europe.
I'm sure some of you noticed over the festive period that sunshine is starting to rival rain as the favoured condition for motoring stupidity. The 4km/h "tolerance" on the speed limit created optimum breeding conditions for that most hateful of mammals - the self-proclaimed "enforcer". These are those helpful folk who get in the fast lane if they think you are going to let your pace creep up to - heaven forbid - 105km/h.
I'm sure these do-gooders feel really great about themselves for helping the boys in blue out, but the hold-ups they create on our open roads are undoubtedly creating more dangerous situations than they're avoiding.
Anyone who braved the madness of the Auckland waterfront would have been treated to two more sunshine dangers - parents who don't think it's a big issue to let their kids get out of parked cars on the traffic side, or are oblivious to rugrats running around on the footpath or road, which are often the same thing when you're 6.
The other high-temperature horror is the parallel parking SUV. On several occasions I was forced to stop while someone executed a nine-try park in late model SUVs that I know are fitted with parking sensors and cameras. Basics, people. If you can't do them, surrender your licence immediately.
This does beg the question - how often do you rely on either parking sensors or cameras? Do you use the parking aids alone or use the mirrors as well? Let us know on Facebook (facebook.com/DrivenNZ) or at nzherald.co.nz/driven in the comments section of this wee rant.