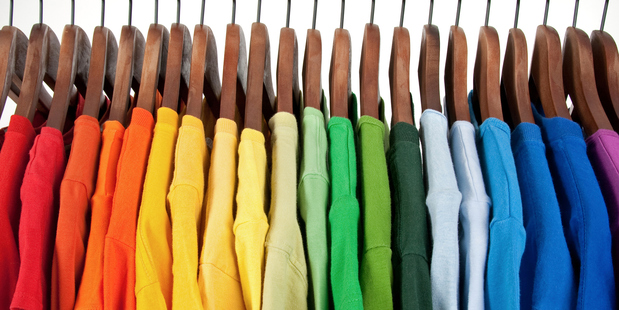 T-shirts, black trousers, underwear, jeans. We've all got them in our wardrobes. Do you buy yours at designer shops or can you be spotted nipping into the Warehouse, Farmers, Glassons or Hallensteins snapping up bargains?
Freelance stylist Jody Blackwood makes a beeline to Kmart, Glassons and other cheap stores such as Jeans West when shopping for everyday essentials for clients.
"Kmart has changed its designers and it's not at all mumsy or frumpy any more," says Blackwood. Items such as $12-$15 T-shirts and $40 trousers can be dressed up with designer jackets and shoes for a polished look.
When it comes to clothes shopping, there are times to spend and times to save. A great example is the classic white T-shirt. It might be better quality from Country Road, but white T-shirts discolour quickly and it's sometimes just not worth spending the money.
Blackwood is complimentary about Kmart and Glassons' ranges. Kmart is great for cotton lycra T-shirts, camisoles and short-lived fashions at bargain prices. Glassons' range of basic trousers that retail for around $39.99 are great value for money. Blackwood and a number of clients, can be seen sporting the latest shorts from Jeans West - because they look great.
Designer basics will usually be better quality. Yet if you stick to cotton, linen and lycra mixes it's possible to get away with the cheapies.
Most shoppers buy more than one item at a time. They may take black and white - and whatever is the key trend colour. This year that's oranges such as sherbet and tango, says Abe Villanueva, brand manager fashion at Farmers.
One of the big selling basics at Farmers is blazers in black, cobalt or pink at $49.99, says Villanueva. And hi lo tank tops are flying off the rails. At the Warehouse, customers can't get enough leggings.

Deals
• Buy two or more and save 20 per cent on most men's and women's clothing at Farmers.
• Free delivery for all orders, plus 20% off for your first order at Glassons.com
• Active Intent cotton elastane basic capris $12 at the Warehouse.
• Basic men's singlets two-pack $8 at the Warehouse.