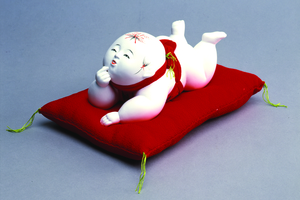 Our own doll shrine at home is this thing we found inexplicably abandoned at the St Vincent de Paul op shop in Onehunga. It's a plastic-faced baby wearing an Anne Geddes tag and a large cactus on its head.
In its grotesquery, the Geddes prickle kid on our bookshelf is the anti-"Doll of Japan".
Not even Hello Kitty dared to show her mouthless face at the Japan Foundation's touring exhibition opening at the Wallace Art Centre on Monday night. Presumably for shame of being too vulgar.
James Wallace's drivers had parked the white Rolls Royce and silver Mini Cooper outside. Several notches above usual event sushi, the nigiri was appropriately superb - slabs of tuna, blankets of salmon.
A Chinese TV crew was interviewing people (with a microphone labelled "LIE" in green glitter) because, they explained with slight impatience, Auckland Chinese are interested in what goes on outside of their communities, too.
And China has a similar "doll" culture.
The scare quotes are because these aren't toys, let alone dollies. They're closer to Lladro than Mattel, if Lladro would toughen up and create armoured fighters as well as fluid dainty dancers.
The sumo wrestler sculpture - Hakata-style, formed entirely out of clay - is to GI Joe what Werner Herzog's Grizzly Man is to your average teddy bear.
"Doll" is a rather misleading translation of "ningyo", which means "human form". (Unlike the pretty exhibition catalogue, Google thinks there needs to be a macron over the "o"; rebel while searching and you're given mythic fish creatures.)
Some are more human-shaped than others, however. Oshie hagoita are a specific art form: raised cloth portraits on broom-shaped battledores (badminton racket precursors).
Traditional wooden kokeshi - which, in the far past, were memorials for dead children - have limbless cylindrical bodies.
For the Hina doll festival, families reveal hopes for their daughters by displaying at least 15 life-like dolls in intricate kimono as if they are at an imperial wedding.
Like Cinderella and Sleeping Beauty, and unlike Christmas nativity scenes, marriage rather than birth is emphasised. A quality set of dolls and a display case can set you back NZ$8000 or more. (Take that, cactus head!)
My favourite Doll of Japan is a young clay woman about 30cm tall, wearing a simple gown of at least four patterned silks, lying on her front, reading.
I asked a visitor speaking Japanese if she could please translate the hiragana in the miniature book, and she pulled over Dr Lawrence Marceau, a University of Auckland Japanese literature expert. Dr Marceau identified it as Essays in Idleness, a masterpiece by a 14th-century monk.
Marceau read the displays' hiragana labels and found most were made (presumably recently) by a Tokyo company: Yoshitoku. He also corrected the position of the tiny puppet play synopsis lying beside the reading woman, so that it was no longer Western-style, upside down and backwards. She looked relieved.
Dolls of Japan runs until December 15.